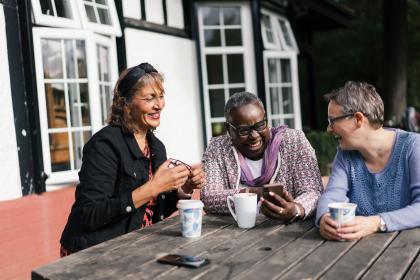 Campaigning is about people power – the more of us that come together to tell decision makers that things should change, the more likely it is that they'll listen. That's why we need your help in building a strong and powerful movement that exists right across the UK. 
Reaching out  
Building a movement starts by reaching out to others and asking if they'd like to campaign with you. Start by asking them to do something small. For example, you could begin by asking family and friends to sign our open letter. 
Campaigning top tip – after your family and friends have signed the pledge, follow up by asking them to share it with as many people as possible on social media. This will create a snowball effect, with more and more people wanting to get involved. 
Organising 
Next it's time to start reaching out to more people in your local community to see if they'd like to campaign with you. Think about where you could do this:
Like with your family and friends, start by asking people who are interested to sign our open letter. Also make sure you have a way of keeping in contact with people who've said they want to work with you. You can then connect with them further down the line. 
Keep reaching out and connecting with people until you've built up a strong base of people who you can take action with. 
Campaigning top tip – use a tablet to help people easily sign the digital pledge. We've also created a document with slips that contain our open letter website address [Word] . All you need to do is print the document, cut out the slips and hand them out to people. 
Taking action
Once you've encouraged family, friends and some members of your local community to get involved, it's time to take action together. You could arrange a meeting, in-person or virtually, to discuss the next steps you want to take to create change. In the meeting, you could:  
Take part in craftivism by creating symptoms posters or other creative items that could be sent to your elected representative. 
Arrange a symptoms awareness leaflet drop to GP surgeries, pharmacies and business in your area. 
Plan a recruitment drive where everyone agrees to ask five other people to add their name to our open letter or join you at your next meeting. 
Whatever you decide to do to grow our movement, we can offer support and guidance. We'd also love to hear about your plans. Email us: campaigns@targetovariancancer.org.uk.