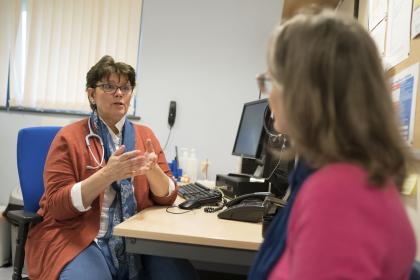 In England, Clinical Commissioning Groups (CCGs) are responsible for deciding what NHS services are needed in a local area. They can play a vital role in improving early diagnosis of ovarian cancer by having sufficient systems to support primary care, like GPs.
At the moment, how early a woman is diagnosed varies significantly depending on where they live in the country. We want to address this by working with CCGs to develop and test ways to improve diagnosis pathways. Our new report and animation set out the areas we want them to focus on. 
How can I get involved?
CCGs like to hear from residents about what's important to them about health and care services in their area. You can join with us to campaign for CCGs to do more to improve early diagnosis.
You can email your CCG asking them to partner with us. We've created a template email for you to send that has everything they need to know.
CCGs are only part of the NHS in England. However, if you live in the other nations of the UK, you can campaign with us to improve early diagnosis. Email to find out how to get involved: campaigns@targetovariancancer.org.uk.
Campaigning top tip – CCGs often put on events for residents to share their views. They're usually advertised on social media, so try to keep an eye out for these. You could attend and ask what they're doing to improve early diagnosis of ovarian cancer and reference our new CCG report and animation.