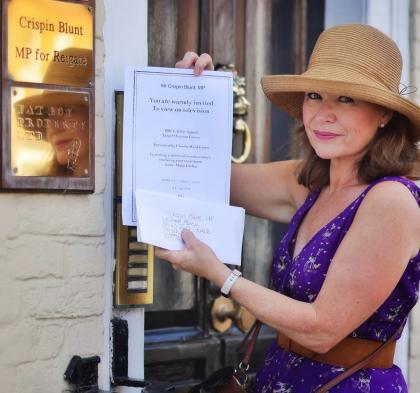 Meeting with your elected representatives is an effective way of persuading and influencing them to act. The more we speak to them about the issues facing those with ovarian cancer and the need for action, the greater the chance of change.
Elected representatives can influence their party and governments, from asking your questions to speaking to ministers. We know that MPs, MSPs, MLAs and MSs find it helpful to speak to their constituents about their concerns and what matters to them.
How to meet with your elected representatives
Our step-by-step guide is designed to take you through how to set up a meeting, what to talk about and what to do after you've had your meeting. 
Please let us know if you plan on visiting your representative. We can provide you with support, guidance and local statistics to make sure your meeting has the biggest possible impact. Email us: campaigns@targetovariancancer.org.uk.
Step 1: find your representatives

You can find out who your representatives are and how to contact them online: 

If you live in Scotland or Wales, your constituency MSP or MS may be best to approach first unless you think one of your regional representatives will be more supportive or influential. If you live in Northern Ireland, you may wish to approach all of your MLAs or only those you think will be more supportive or influential.

Step 2: arrange an appointment 

Elected representatives carry out surgeries, which are sessions for constituents to discuss issues with them. The best way to find out your representative's surgery arrangements is to contact their office. They'll be able to give you more information and tell you how to set up a meeting. There may also be information on your elected representative's website. Tell them that you would like to discuss ovarian cancer and would like their help. 

Some representatives carry out surgeries in person, others virtually or over the phone. If they're carrying out surgeries virtually, you may be asked to choose how you want the meeting to be conducted. This could be over Zoom, Skype, another online platform. If you need help setting up a video call, let us know: campaigning@targetovariancancer.org.uk.

Campaigning top tip – if you've contacted your representative about a meeting and they haven't replied, then follow up by calling their office or resending your original email.

Step 3: prepare for the meeting

Preparation is important. Write down the key points you want to speak about in the meeting and any key actions for your representative to take forward. You don't have to be an expert, but it's good to have a grasp of some of the issues before the meeting. 

You may want to talk about: 

Why you're passionate about campaigning on ovarian cancer. If you or someone you know has ovarian cancer, share this with your representative if you feel comfortable doing so. This will be powerful, compelling and help bring the issue to life so they know exactly the challenges faced by women with ovarian cancer.
Over 7,000 women are diagnosed with ovarian cancer each year in the UK. Too few women are being diagnosed at an early stage (I or II) when chance of survival is greatest. Find stats to mention that apply to your country. 
The impact the coronavirus pandemic has had on women with ovarian cancer. The pandemic caused significant disruption to cancer services, including treatment. As the cancer backlog begins to be addressed, it's vital that access to specialist surgery for ovarian cancer is seen as a priority. Read more about the impact the pandemic has had on women in our report: 'Voices of women with ovarian cancer: the coronavirus pandemic and its impact' [PDF].

If there's a specific issue you want to talk about, like the need for an awareness campaign in your country or access to better treatments, carry out some research on this beforehand. We can help by providing ideas on what to talk about and can provide you with a tailored briefing for your area. Email us: campaigning@targetovariancancer.org.uk. 

Key actions for your representatives

Before the meeting, come up with some key actions for your representative to take forward. You could ask them to:  

Write to the health minister or table a question in your country's legislature.  
Raise awareness of the symptoms of ovarian cancer on social media. 
Host a virtual event in your constituency about ovarian cancer.   

Ask their permission to take a screenshot/photo during the meeting. When you've got a picture, you can then post it on social media and tag your elected representative.

You may find it helpful to run through what you want to say in the meeting with a family member or friend. This could help you identify other things to mention and refine how to phrase certain points.

Campaigning top tip – elected representatives are always keen to hear about your personal experiences. When preparing for your meeting, keep this in mind and think about what would be powerful to share.

Step 4: actions during the meeting

Try to get across your story, the key points you've noted down and the key actions for them to take away. Surgeries usually only last 15 minutes, so try to make this concise. Don't worry if you forget anything or didn't have time to include all of your points. You can follow-up with an email after the meeting.
Don't worry if your representative asks a question you can't answer. You can say you're not an expert and that you can find out and get back to them. 
Keep the discussion friendly. This will help achieve results by building a good relationship with your elected representative.
When the meeting is nearing its end, confirm agreed key actions and thank your representative for their time.

Step 5: actions after the meeting

Send an email to your representative thanking them for the meeting as well as summarising the key points you raised and the key actions that were agreed. 

If you don't hear from them for a few weeks, you could send another email asking whether they have carried out what they agreed to do. To keep them engaged, you could send them information whenever Target Ovarian Cancer launches a new campaign, report or action. If you're signed up as one of our campaigners, you'll be kept up to date on this.

Always remember that your MPs, MSPs, MLAs and MSs have been elected to represent you. Don't ever feel like you're bothering them or wasting their time. They are there to listen to your views and act on your behalf. 
Christine's story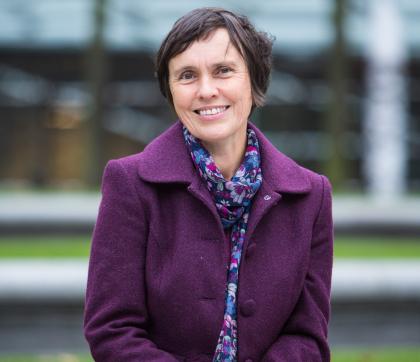 Christine met with one of her Members of the Scottish Parliament (MSPs) to talk about the impact the pandemic has had on diagnosis, treatment and support. In the meeting, she managed to secure a commitment from her MSP to act on ovarian cancer.
I contacted the MSP's office to arrange a meeting and spent some time beforehand preparing a list of points I wanted to say. I shared my story and some of the things I wanted to see change, particularly greater awareness of the symptoms of ovarian cancer in Scotland and the need for an awareness campaign. In spite of feeling a bit nervous about it, we ended up having a lovely and productive chat. She was very helpful.