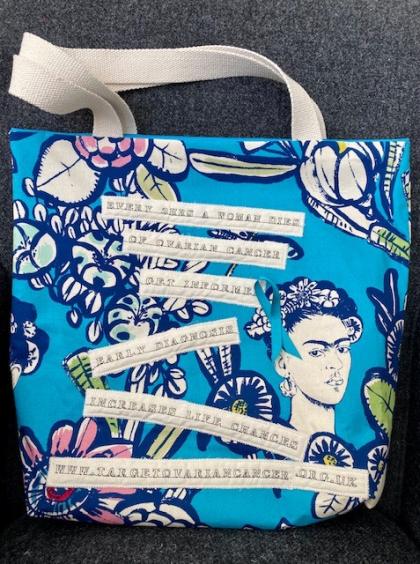 Craftivism is a powerful and creative way to bring about change and raise awareness. It involves creating flyers, stickers, bags or badges (even cakes and biscuits) to draw attention to a particular campaign or issue.
Craftivism is perfect if you don't feel comfortable taking part in certain activities, like hosting an event or meeting with your elected representative.
Getting started 
It's important to think about how you want your creations to have a positive impact. Think about:  
Who you want your target audience to be. This might be your elected representative, local Clinical Commissioning Group chair or people on your street. 
What message you want to get across and the best way to do this. It could be by creating a banner for a stall at an event or giving small felt hearts to people with a note that provides more information about ovarian cancer.
How you can promote your craftivism. Taking a photo of what you've created and posting it on social media can be a great way to do this. Think about who could help you spread the word, like local community groups or newspapers. 
Campaigning top tip – craftivism can be fun with others! Why not invite some family and friends to create with you? For example, you could get together to design your own symptoms posters or design badges that you could send to your elected representative. 
If you'd like help with craftivism or to talk about your ideas, email: campaigns@targetovariancancer.org.uk. 
Julia's craftivism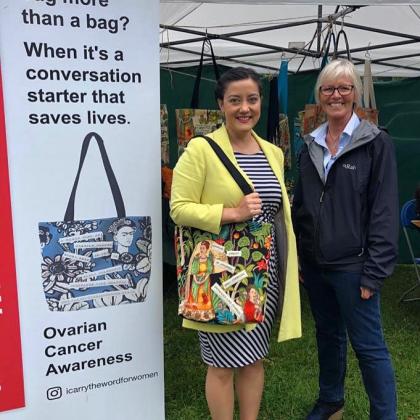 Julia wanted to combine her passion for sewing with her desire to raise awareness of ovarian cancer. She decided to create bags displaying powerful embroidered messages about the importance of knowing the symptoms and early diagnosis. 
Since starting the project, ICarrytheWordforWomen, Julia has hosted stalls in her local area and created an Instagram account to help spread the word. Julia also creates videos where she talks about ovarian cancer, shares her story and offers advice for other women worried about symptoms.
Julia's beautiful bags are playing a vital role in bringing about change – they're also catching the eye of politicians! After hosting a stall at a community festival, her MP bought one of the bags and pledged to raise awareness of ovarian cancer in Parliament.
My hope is that the bags will help start conversations about ovarian cancer that could save lives. It's absolutely vital that more women know the symptoms of ovarian cancer so they can be diagnosed early.
Check out Julia's #icarrythewordforwomen project on her Instagram.