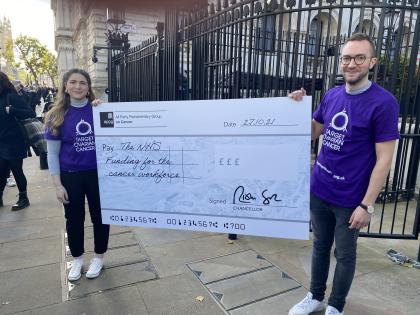 Our top campaigning tips
Remember to stay safe. Please make sure that when you're campaigning, whether through taking part in one of the activities in our toolkit or your own activity, it's done while adhering to national and local coronavirus restrictions and guidance.  
One of the most important aspects of campaigning is spreading the word. The more people that get involved, the better! With every action you do, whether you're emailing your elected representative or raising awareness of ovarian cancer symptoms, tell everyone and ask them to take part too. Spread the word far and wide on your social media or when having conversations with family members and friends.  
Campaigning takes time, so a little patience can be required. With campaigning, persistence and patience are key. Lots of different tactics and arguments may need to be made before change happens, but don't be disheartened if you don't see results right away. Check out our campaigning successes to see what happens when pushing for change over time pays off. 
Useful resources
Our reports – they explain many of the challenges facing women with ovarian cancer and put forward solutions which, if adopted by decision-makers, will improve awareness, diagnosis and treatment. Our data briefings provide analysis of data on regional variation, routes to diagnosis, different types of tumour and treatment. When reading the data briefings, please note that everyone's experience of ovarian cancer is different and it's not possible to draw conclusions about an individual's diagnosis and treatment from the figures they contain. 
Our Facebook, Twitter and Instagram – follow our accounts for the latest updates from Target Ovarian Cancer. 
Support for you – we're here for everyone affected by ovarian cancer any time you need us.