Local newspapers are a fantastic way to raise awareness of ovarian cancer and the campaigning you're doing. In our video, Sharon Hodgson MP talks about why this is so important for saving lives:
Writing to your local newspapers will have a huge impact because:
There may be people in your area experiencing symptoms that could indicate ovarian cancer but haven't heard of the disease before. It may be the signal they need to contact their GP. 
It could lead to more people getting involved with your campaigning or wanting to do more. Campaigning is more likely to bring about change when as many people get involved as possible. 
Elected representatives pay very close attention to what is in local newspapers in their constituencies so they know what their constituents' concerns and worries are. By seeing an article or letter about ovarian cancer, they may want to do more to help. 
How to write to your local newspapers 
We've created a template press release [Word] which you can send to newspapers in your local area, which focusses on symptoms awareness. If you'd like guidance on how to include other issues you're campaigning on in the press release, get in touch: campaigns@targetovariancancer.org.uk. 
How to use the press release:
Fill in all of the blanks in the press release – <text that looks like this>.
Don't forget to include your full name.
Include a clear location of where you live – including the exact area if you live in a town or the city you live in (e.g. Small Heath, Birmingham).
Add your contact details (including a phone number) in the 'notes to editors' – journalists will often want to check the details with you.
Local journalists like to know about you – if you can, mention your job, anything you do in your local community, and your family, including if you have any children.
Look for the newspaper's contact details online. Ringing the newsdesk is better than email.
Copy the press release into the body of the email itself before you send – avoid sending as an attachment.
Include a picture of yourself, you and family or of a campaigning activity you've taken part in. The picture needs to be good quality – preferably around 1MB in size.
Pauline's story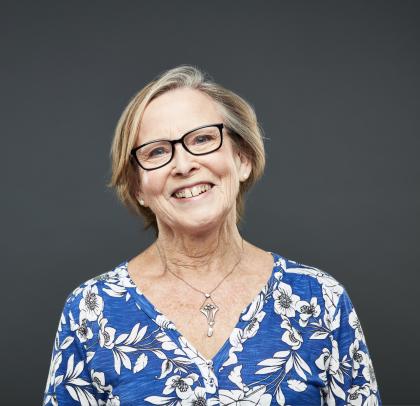 Pauline spoke to her local paper about her involvement in Target Ovarian Cancer's 'It's time to TAKE OVAR' campaign where she shared her story and raised awareness of the symptoms of ovarian cancer.
I spoke to my local paper because I'm passionate about helping raise awareness of ovarian cancer. It's so important that women know the symptoms to look out for and where to turn if they need support. Local papers are such an important way to spread the word.