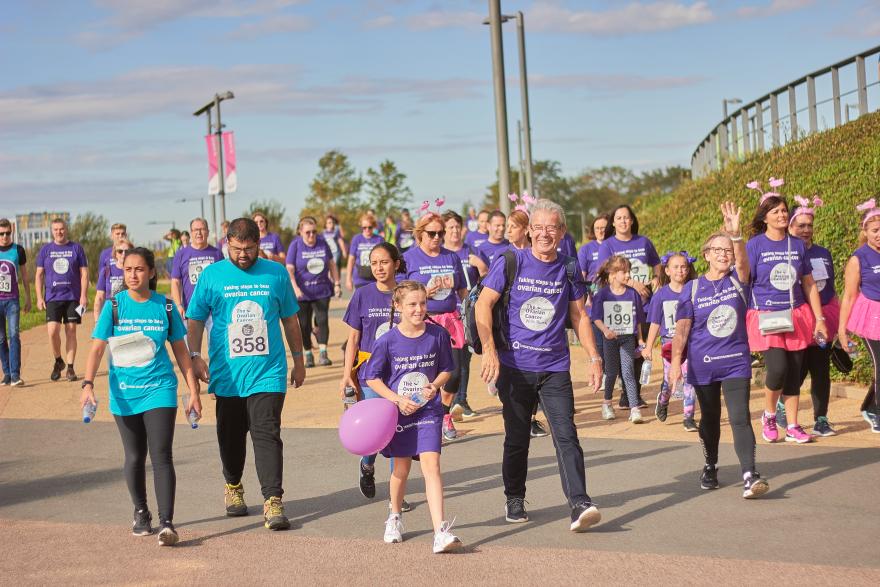 Don't worry if you couldn't make the Ovarian Cancer Walk|Run in London, Belfast or Edinburgh, we'd be delighted if you joined us virtually. 
Take on your own 5k or 10k distance and we'll send you everything you need to help you plan and complete your route. 
Covid-19 has delayed our activities but we're just as determined to raise awareness, fund research and save lives.
So get your trainers on and go the distance to transform the future for women with ovarian cancer!
How to join Team Target
Sign up on your own or with friends and family. It's free to register, but we encourage all adults to fundraise a minimum of £100.
Complete your own challenge and you'll receive a t-shirt, medal and certificate – as if you'd joined us on the day. 
If you have any queries, please contact the fundraising team at fundraising@targetovariancancer.org.uk.
Frequently asked questions
Signing up
Can I sign up offline?

Yes, you can sign up over the phone by calling 020 7923 5474, or you can email us at fundraising@targetovariancancer.org.uk and we'll send you a paper form.

When will I receive my pack and t-shirt?

Your pack will be sent to you as soon as possible. Please register at least two weeks before your challenge date to receive your pack in time.

I've made a mistake on my entry form, can I change it?

If you'd like to make changes to your entry, please contact us and we'd be happy to make any changes.
Fundraising
Why is there a minimum sponsorship amount?

How do I set up my JustGiving page?

Can I use sponsorship forms instead of a JustGiving page?

I've raised money offline, how do I pay in my sponsorship?
If you have any more questions please email fundraising@targetovariancancer.org.uk or call us on 020 7923 5474 and we'd be happy to help.