I lost my auntie to ovarian cancer eight years ago and ever since then I have always wanted to do something to raise awareness and help make a difference. This year I decided to organise a charity footballer tournament, in aid of Target Ovarian Cancer.
Getting the ball rolling 
First of all I got in touch with a local community college (Trumpington Community College) and they allowed me to use their 3G football pitch, as well as making a generous donation. Rulo's Barbershop, a local business in Trumpington, very kindly offered to sponsor my event., they placed a pop-up donation box in their shop with leaflets, wristbands, and badges, and also donated the prize trophy for the tournament winner. In the lead up to my event, I had the support from my family and friends. My mother in particular was a big help with the whole event. She managed to secure me a radio interview, put me in touch with the catering company and gave me incredible support on the day, helping me set up/pack up and running the drinks stand.
Once I had the venue confirmed, preparing for the event was fairly straight forward. Being so heavily involved in the football community around Cambridge meant that arranging teams, securing referees and getting footballing equipment wasn't too difficult. After that I focussed on making sure the day ran smoothly and was as enjoyable as possible for the participants. From the get-go, I set up a Facebook page for the event so I could easily communicate with all participants, as well as others who wanted to donate or support in any way.
Raising awareness
I found the event very rewarding. I'm happy to say it all ran smoothly and the participants had such a great day they encouraged me to run this event annually. Whilst teams were resting, I took the opportunity to take leaflets to them and inform them on the symptoms of ovarian cancer. It was shocking witnessing how little they all knew about it, and some requested to take leaflets home to their loved ones. Raising awareness was always my main target, so it was rewarding to know I had done that. 
Exceeding expectations
Before the event, I set myself some targets. My main target being to raise awareness for the charity and my second to raise £1,000. I can happily say I did both and I'm so pleased! In total, I raised an incredible total of £1,518.55. I never expected to raise quite so much; it's such an amazing feeling.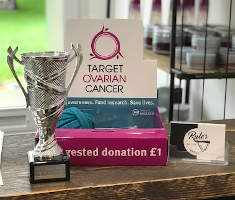 Support
I received incredible support from Target Ovarian Cancer. Isabelle was my point of contact and she was fantastic. Any time I needed help Isabelle was always available to assist, really took interest in my event and was very supportive. I would like to say a massive thank you to Isabelle, and Target Ovarian Cancer, for helping me to achieve my goal in more ways than one!