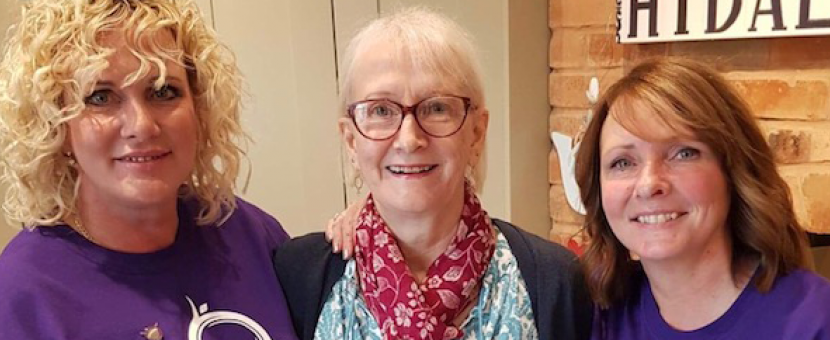 Nikki was a regular fundraiser for local charities, but felt surreal when she hosted an afternoon tea for a cause so close to her heart. Here she talks about the shock of her healthy mum's diagnosis, the bravery of women with ovarian cancer and why she had to do something to 'give back'…
When my mum was diagnosed with ovarian cancer, it turned our world upside down. Her first noticeable symptom was the swelling of her tummy which grew very quickly until she was unable to fasten her trousers. This in turn caused a problem with her breathing, which we now know was because the fluid was filling her lungs. After various tests, she was diagnosed with ovarian cancer and unfortunately, was already at an advanced stage IV.
Mum
My mum has always been very fit and healthy. In fact, the last time she was in hospital was when she gave birth to my younger sister – 45 years ago! Unfortunately the cancer has spread to her bones which means mum would not benefit from surgery and so she has undergone monthly treatment since December.
My mum remains so strong, upbeat and very brave like so many stories I have read of the courageous women fighting this cancer. She has inspired us to do something positive, to give something 'back' to the amazing charities that offer so much support and advice. So when I saw Target Ovarian Cancer's Bake for Change event advertised, I just had to do it!
Uplifting
Our event took place in the last weekend of March, to mark the end of Ovarian Cancer Awareness Month. I organised an afternoon tea at my home and invited 80 people. We received so many great raffle prizes, organised a sweepstake and planned a couple of games.
It was such a successful event on a lovely sunny afternoon and everybody had an enjoyable time. My mum also attended and found the whole event very uplifting, particularly as she met up with friends and old work colleagues that she hasn't seen for many years.
We raised a tremendous £1,181.94 on the day but I also set up a JustGiving page for donations from those who couldn't attend, which raised £320. This gave us a whopping total of £1,501.94.
Surreal
I have always fundraised for local charities but it felt very surreal for someone so close to me. It has made me more determined to continue with my fundraising journey so that more people can continue to benefit from the services that amazing charities like Target Ovarian Cancer have to offer.