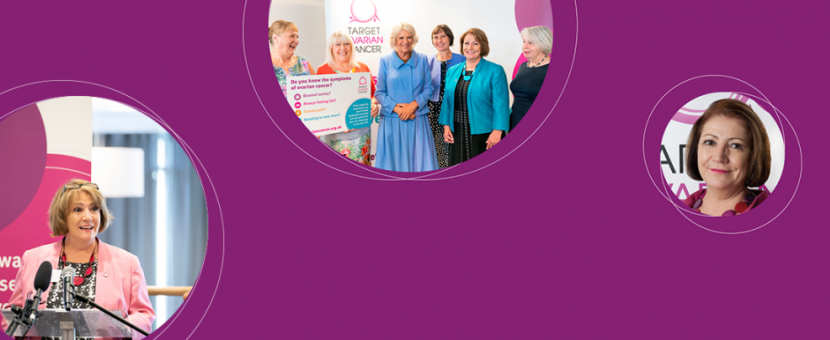 Target Ovarian Cancer's Chief Executive Annwen Jones has been awarded an OBE in this year's Queen's birthday honours.Annwen established Target Ovarian Cancer alongside Joanna Barker MBE and Frances Reid in 2008. Since that time, the charity has grown rapidly and is now at the forefront of work transforming awareness and support, funding research, and saving lives. A multi-award winning charity, Target Ovarian Cancer has developed a unique face-to-face support programme for women across the UK, trained over half of UK GPs in best practice for early diagnosis of ovarian cancer, and funded over £1.25 million of research through the UK's first ever open research grants programme in ovarian cancer. In 2018 Target Ovarian Cancer was honoured to receive a visit from HRH The Duchess of Cornwall to mark the first 10 years of the charity's achievements. 
Cited for her services to charity, Annwen is also Vice-Chair of the World Ovarian Cancer Coalition and a co-founder of World Ovarian Cancer Day. Her previous roles include Chief Executive of the Juvenile Diabetes Research Foundation and Board member of the Association of Medical Research Charities. Annwen's work has made a difference to the lives of thousands of people around the world. 
Target Ovarian Cancer's Chair, Emma Kane, said: "We are so incredibly proud of Annwen receiving an OBE. She has worked tirelessly as co-founder and Chief Executive of Target Ovarian Cancer, overseeing an organisation that delivers more and more for women with ovarian cancer, their families and friends.
"Under her leadership, Target Ovarian Cancer has put ovarian cancer on the political and public agendas, raising awareness of the symptoms, challenging the barriers to early diagnosis, directly funding research, and providing unparalleled support. She and her team have been instrumental in saving women's lives.
"I know I speak for everyone involved with Target Ovarian Cancer in offering my congratulations on this thoroughly deserved honour."
Annwen Jones said:
It has been an enormous privilege to lead Target Ovarian Cancer since we were founded in 2008. This honour is a tribute to the extraordinary and inspirational women with ovarian cancer that we work with every day. Together, alongside their families, our volunteers, fundraisers, donors, staff team, clinicians, researchers and nurses, we have already achieved so much.

This honour will spur us all in our ambition to further transform survival and support. I'm profoundly grateful to be supported by our incredible community and by my wonderful family.