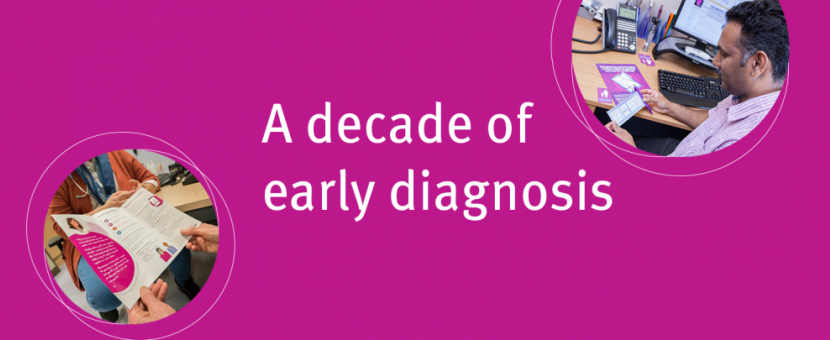 Dr Sharon Tate, our Head of Primary Care Development, presented new research aimed at understanding barriers to early diagnosis and how we can overcome these in ovarian cancer.
Early diagnosis drastically improves treatments options and long-term outlook for women with ovarian cancer, so it's crucial we don't leave it to chance. We are thrilled to be putting ovarian cancer on the early diagnosis agenda through our work.
Ten years of early diagnosis
Target Ovarian Cancer's early diagnosis work started in 2009, and since then we have led the way in early diagnosis of ovarian cancer through our innovative GP education programme and our public policy campaigning.
The Early Diagnosis conference brings together people working in charity, health and research, all striving towards a common goal of early diagnosis. It is a wonderful opportunity to reflect on the progress that has been made, learn from our peers, and importantly, to consider new approaches to improve clinical practice and services with the aim of achieving an early diagnosis for more people with cancer.  
Many of you have shared your experiences of delayed diagnosis and expressed your concerns regarding the implications of delays. Quicker, earlier diagnosis and GP education are among your top priorities.
So what does the new research tell us?
We conducted interviews with GPs across England. Our aim was to gain a better understanding of the practical challenges they face in diagnosing ovarian cancer, for example access to diagnostic tests like a trans-vaginal ultrasound.
Findings show that GPs are confident they know the symptoms of ovarian cancer, but in day-to-day practice it's a challenge to decide the best next step for patients. There is also a lot of variation across the UK in access to diagnostic tests.
National guidelines provide a clear framework for improving diagnosis of ovarian cancer. In some cases this guidance is not implemented and in other cases local commissioners are making their own interpretations of the guidance. The impact of this is currently unclear but could potentially lead to problems like differences in availability of diagnostic tests including the CA125 blood test and trans-vaginal ultrasound.
All the GPs we spoke to were clear that specialist colleagues working in local hospitals are a valuable source of support, offering useful advice and guidance.
Next steps
The information gathered through our GP interviews supports the findings from our report Regional variation in the diagnosis of ovarian cancer in England and shows clearly that there is much to be done to improve challenges in diagnosing ovarian cancer.
Target Ovarian Cancer's key next steps will be to contact local healthcare commissioners – the people in control of GPs' access to diagnostic tests, among other things – to examine whether it is possible to develop tools and methods for addressing these differences. We want to make sure all women are diagnosed at the earliest possible stage.