Her Royal Highness The Duchess of Cornwall, or The Duchess of Rothesay as she is known in Scotland, today met with women with ovarian cancer, their families, and representatives of Target Ovarian Cancer.
The meeting took place at the Beatson West of Scotland Cancer Centre in Glasgow, where Her Royal Highness was greeted by Annwen Jones, Chief Executive of Target Ovarian Cancer. Her Royal Highness had the opportunity to meet women from across Scotland who have had a diagnosis of ovarian cancer, together with their family members, to talk about their experiences.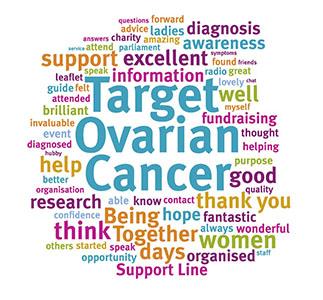 To commemorate the visit, Target Ovarian Cancer asked supporters to express what the charity means to them in its 10th year supporting women with ovarian cancer across the UK. The words in the image are a visual representation of the many positive and warm messages we received. Target Ovarian Cancer would not exist without the support of thousands of people affected by ovarian cancer every year, and we want to say thank you to each and every one of you.
Annwen Jones, Chief Executive of Target Ovarian Cancer, said: "We were thrilled to welcome Her Royal Highness to meet women with ovarian cancer and to find out more about Target Ovarian Cancer. This visit is a landmark day for women with ovarian cancer everywhere and will shine a light on this devastating disease in our tenth anniversary year."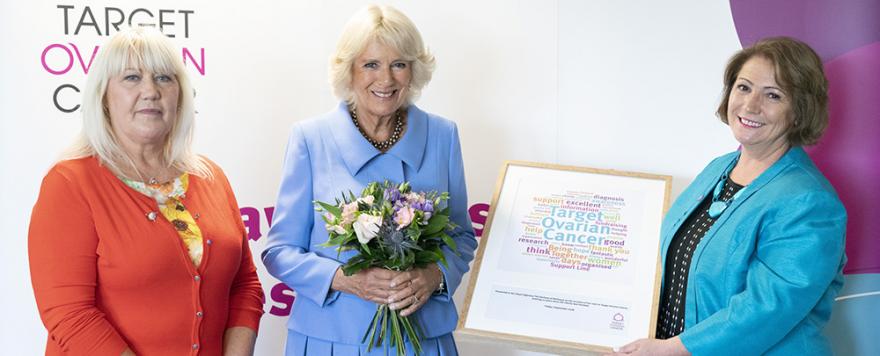 Rona Passmore, who was diagnosed with ovarian cancer after experiencing bloating and abdominal pain, said "Not only is it 10 years since Target Ovarian Cancer was founded, but it is also 10 years since I was told I had ovarian cancer. Since that time I have developed an invaluable relationship with the charity, through the support they have given me, and the support I have given them through campaigning, speaking at events, in the media and in parliament. Meeting Her Royal Highness today alongside Target Ovarian Cancer has been a momentous way to mark those anniversaries."