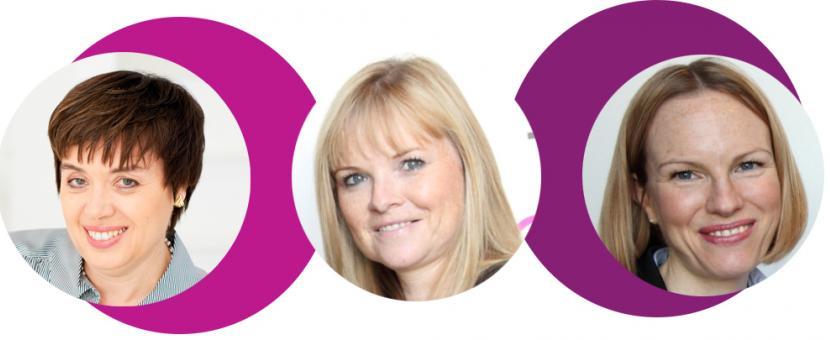 Having recently reached our ten year anniversary, celebrating unimaginable progress and record achievements, the role of Director Emeritus has been created to acknowledge former trustees of the charity who continue to act as ambassadors and advisers for Target Ovarian Cancer, playing an active role in our mission to transform survival from ovarian cancer.
Joanna Barker MBE, former Chair of the Board of Trustees and founder of Target Ovarian Cancer, Lisa Attenborough, former trustee, and Sonya Branch, former trustee, have all been appointed to this new and influential role.  
Joanna Barker
Joanna's mother and sister died from ovarian cancer in 2005 and she was chair of trustees at Target Ovarian Cancer from 2008 until 2018. She has over 30 years of experience in business and finance, and is a lay member of the Council of the University of Durham, which awarded her an honorary doctorate (D.Litt) in 2012. In 2014 she was awarded an MBE in the Queen's Birthday Honours.
Lisa Attenborough
Lisa Attenborough was a trustee of Target Ovarian Cancer from 2009-2018, after her mother died of ovarian cancer. Lisa is Director of Communications at Arla Foods and has held senior communications positions at major international companies. She has managed significant strategic initiatives working with Boards for 25 years across global plcs, private equity and non-governmental organisations. Previous senior level roles include Premier Foods, Mondi, Marks and Spencer, Siemens, Hilton Hotels and Financial Times.
Sonya Branch
Sonya Branch was a trustee from 2011-2018. Sonya is General Counsel at the Bank of England and the Executive Director for the Legal Directorate. She is responsible for providing legal advice to both the Bank and its subsidiary, the Prudential Regulation Authority. Previously, Sonya was Executive Director, and member of the Board and Executive Committee, at the Competition and Markets Authority. Sonya has previously played a key advisory role in several government key policy initiatives including the Health and Social Care Act and was a Partner in the Corporate department at the global law firm, Clifford Chance LLP. She is also Governor of a primary school in Kew, London.
Chair of trustees Emma Kane said:
I'm delighted to award the position of Director Emeritus to Joanna, Lisa and Sonya, three outstanding individuals who have played a vital part in the charity's extraordinary growth and impact and who are continuing to make such important contributions to the future of Target Ovarian Cancer