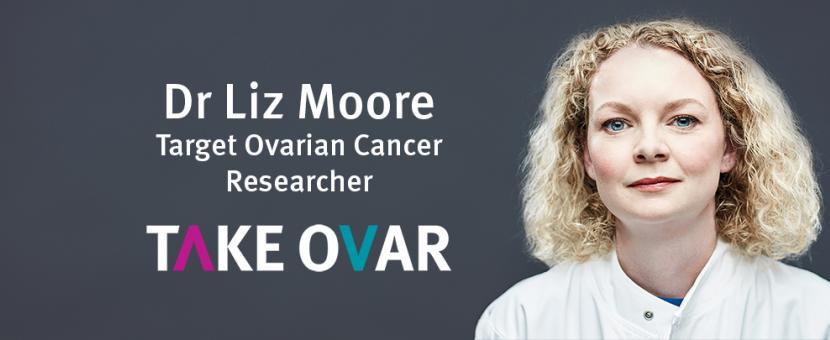 Target Ovarian Cancer-funded researcher Dr Liz Moore has had the results from her recent research published in the journal Science Translational Medicine. The research found a better way to detect fragments of tumour DNA in blood samples, paving the way for the development of a new and more accurate method to detect ovarian cancer earlier.
The project began in 2016 at the University of Cambridge and investigated novel methods for earlier and more precise detection of ovarian cancer. Dr Moore and her colleagues aimed to explore alternative and more sensitive methods to detect DNA from ovarian cancer tumours in routine blood and cervical smear samples – seeking an easier way to detect ovarian cancer than ever before. Unlike a tumour biopsy, testing for tumour DNA is a non-invasive test for cancer diagnosis, and could in future work for an ovarian cancer screening process.
Whilst considerably more research is required to develop an accurate, reliable method for diagnosing ovarian cancer early, this research makes a significant contribution to a better, more sensitive diagnostic test to find ovarian cancer in the body. The study was successful in using predictive models to improve the identification of DNA fragments from tumours in a range of patients with several different cancer types. The researchers focused on using a method called fragment size analysis, which they have demonstrated can boost analysis of tumour DNA. Dr Moore's work could help overcome current limitations of similar testing, allowing for a more accurate way to diagnose cancer earlier.
For this project, Dr Liz Moore was the first recipient of the highly prestigious joint Target Ovarian Cancer and Medical Research Council Joint Clinical Research Training Fellowship, a programme dedicated to training the ovarian cancer clinical researchers of the future.
Annwen Jones, Chief Executive of Target Ovarian Cancer, said:
Today's findings are a major step forward in research into developing an effective screening tool to detect ovarian cancer earlier. This is urgently needed because the disease often goes undetected before diagnosis, making it more difficult to treat, and there is currently no screening programme in ovarian cancer. We are delighted that our first partnership with the Medical Research Council, the only one of its kind in ovarian cancer, has had such a successful result. We look forward to continuing to work with them in training the ovarian cancer researchers of the future.
Early diagnosis in ovarian cancer is key to survival. The results of this research makes strides in the continued work towards a new and more accurate ovarian cancer screening tool.
Watch Liz's story for our TAKE OVAR campaign: