When Karen was seven, her father left the family home. As a single parent it was quite tough bringing up three children on my own. Karen was strong willed, and we used to disagree quite a lot. Karen was extremely close to her brothers.
On my first visit to Karen's university flat, she started to complain about her untidy flatmates and how they were wasting their lives. I just grinned! Karen suddenly clicked and said, "Oh my God, I'm you". She gave me an enormous hug and from that point on we became the best of friends.
Moving on
Once the children had left home, my husband Ed and I decided to make a new life together and move to a 33 acre smallholding in Pembrokeshire. We were going to run the farmhouse as a bed and breakfast and turn the outbuildings into holiday lets. Karen took time off work to help us move in and I have such fond memories of her helping to decorate the kitchen.
Karen and Ed got on extremely well, and as Ed's job was still in the Home Counties, he even stayed with Karen in the flat she shared with her partner. Six weeks after we moved I went back to see Karen and immediately sensed something was wrong. Shortly afterwards, she was admitted to hospital to have an ovarian cyst removed. Two weeks later, Karen was told that it was cancerous.
I travelled backwards and forwards to be with Karen for her chemo sessions. It was difficult at times, as I was trying to run the smallholding where I was now a novice shepherdess in the middle of my first lambing season, but I just wanted to be with her as much as possible.
Ups and downs
The ups and downs of chemotherapy were devastating. At one point we were told that the chemo was working, but on my birthday Karen told me that the cancer was now thought to be more aggressive and was spreading to other parts of her body.
Eventually, she was admitted to a hospice where they were trying to help ease the pain and control the drugs. It was an extremely emotional time for our family. Karen was a devoted auntie, and was determined to attend her brother Graham's wedding.
A year after first being diagnosed, and less than three weeks after Graham's wedding, Karen passed away in her flat with myself and Simon by her side.
Déjà vu
Karen had so many friends who thought the world of her, she was full of life, extremely happy and full of fun. She would help anybody when she could and had several monthly standing orders, donating to charities to help others.
After ten years at the farm we decided to move to Oxhill to be closer to the boys and our grandchildren. Six weeks after we moved our daughter-in-law Jan was taken ill and later diagnosed with cancer. It was a really difficult time for me as it was déjà vu. Two years after a brave battle, Jan sadly passed away leaving my son Graham and their two children Holly and Jake.
Wingwalking
My wonderful husband gave me the generous gift of a wingwalking experience for a Christmas present.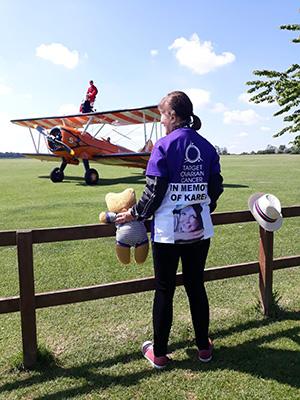 For a long time now I have been inspired by the Oxhill Ladies fundraising team and I was going to join them in one of their fundraising events, cycling 100km in the night or a 26 mile Jurassic Coast walk. However, in the end I decided that the mind was willing but the body wasn't! With the inspiration of the Oxhill Ladies, I decided to turn my wingwalking experience into a chance to raise awareness of ovarian cancer.
It was my 68th birthday, and I was blessed with glorious weather. My daughter's teddy, Thomas, accompanied me as my mascot. We took to the skies with our pilot Dave. What an amazing experience we both had. I was delighted to raise over £1600, and hope that my fundraising will help somebody who is suffering from ovarian cancer.
Karen was a wonderful daughter and was always there for others. I miss her so much and she is always with me in my heart. I know that she would have been proud of me helping other ladies who have been diagnosed with this dreadful disease.