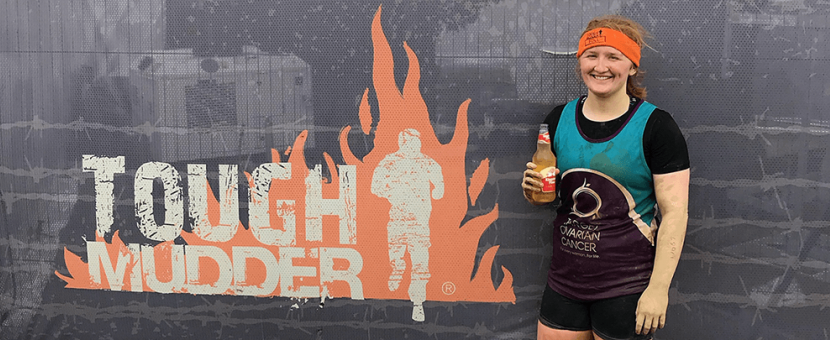 Georgia's mum was diagnosed with ovarian cancer in 2017, and Georgia decided to fundraise to better the lives of those diagnosed with the disease. She chose to do a Tough Mudder event and so, fuelled by scrambled eggs on a very rainy day, she dove into the mud…
My mum was diagnosed with advanced ovarian cancer just a few days before Christmas in 2017. We were informed about the journey she faced after her diagnosis, and I decided that I wanted to do something to raise as much awareness and money as possible for research into the disease.
Choosing a challenge
I looked at various events and decided on the Tough Mudder as I felt that it would be a huge, but enjoyable, challenge. The distance of 10 miles seemed challenging enough, and the obstacles only added to that. I signed up by myself as I felt that doing it alone would make it even more of a challenge.
A rainy day
The date of the event quickly came around and after trying to do a few more pull ups in the gym than usual I wasn't sure that I was in any way prepared! Fuelled with scrambled egg, I turned up at the course with my parents and brother on a chilly, rainy day in Bristol and questioned what I was doing. As soon as I took my layers off and got going I was away! I flew round the first three obstacles and after doing the Arctic Enema where I slid into a pool of ice, and seeing my family cheering me on, I was ready for more mud!
At times I felt like I was on a cross country course, and as I was on my own and have never really been a fan of running, miles 6 and 7 were a bit of a drag. However there was no way I wasn't going to complete the course! The support of my family and friends and their generosity in sponsoring me really kept me going when I was tired, cold and wet.
Awareness
I felt a massive sense of personal achievement after finishing the course as well as feeling pleased to have raised so much money for such a great cause. Thanks to some very generous donations from both friends and family I was very grateful to far exceed my target of £500. I was able to raise £723.45 after creating a JustGiving page 3 months prior to the date of my Tough Mudder.
It was important to me to try to raise awareness of ovarian cancer as neither I, nor many of my friends or family, knew much about ovarian cancer prior to my mum's diagnosis. I also wanted to raise as much money as I could for Target Ovarian Cancer to help prevent so many women and their families being affected by the disease.
Unfortunately just a couple of weeks ago we were told that my mum's cancer has returned and so she is now going through a second round of chemo. I wanted to set myself another challenge in order to continue to raise money and so I am currently thinking about taking on a half marathon.