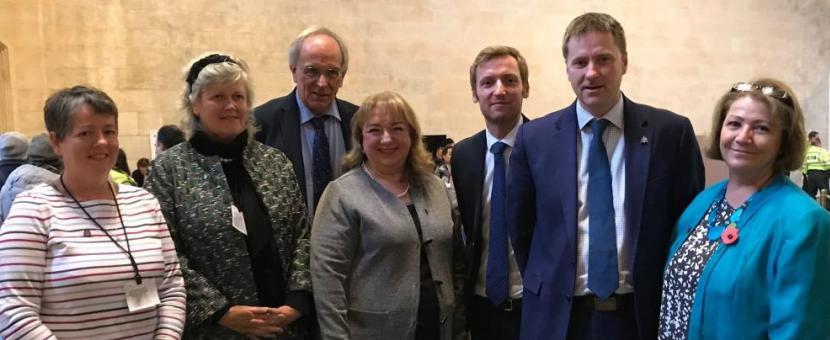 This Tuesday, MPs from across the country debated ovarian cancer in Westminster. The debate was secured by Lee Rowley MP, who spoke passionately about the need to improve early diagnosis, drawing on his own personal experience through his mum's recent ovarian cancer diagnosis.
Sharon Hodgson MP, Chair of the All-Party Parliamentary Group (APPG) on Ovarian Cancer and Shadow Minster for Public Health, called on the government to act on the recommendations of APPG's recent inquiry into early diagnosis of ovarian cancer.
Minister for Public Heath Steve Brine MP responded on behalf of the government. Having heard MPs from up and down the country and stories from women who have had a diagnosis of ovarian cancer, he was clear in his personal commitment to improving early diagnosis of ovarian cancer, treatment, and support for women. 
A group of MPs spoke to share personal stories about relatives, friends and constituents:
I want to share the story of my constituent Gail, who wrote to me ahead of the debate telling me the experience of her younger sister, who has stage III ovarian cancer. It took a long time to get the diagnosis in the first place and at one point, she was being incorrectly treated for rheumatoid arthritis. We can only imagine the added distress that this kind of delay can cause in an already extremely difficult experience. 
I was inundated with emails and want to make a few remarks on their (constituents') behalf. Amanda from Makerstoun in my constituency benefited from timely diagnosis and treatment. Amanda was totally unaware that she had ovarian cancer and was diagnosed only because she was fortunate enough to be given a blood test, as her GP suspected that something else entirely was wrong.
Linda was diagnosed with ovarian cancer in September 2017, having initially felt unwell at the beginning of summer while she was on holiday. The classic symptoms were there: bloating, feeling full and knowing that something "wasn't right". Multiple trips to the GP followed until, finally, a blood test was taken, confirming the cancer. Linda had a full hysterectomy that same month and spent much of the next few months recovering. As with so many others, although it may not have touched me personally, it has touched my family. Linda is my mum.

There is a need for people to speak up about ovarian cancer. Thanks to the work of those who are doing so, it has started to receive ​the attention that it needs. Charities such as Target Ovarian Cancer work tirelessly every day to raise the profile of the disease, support those who have been affected, improve diagnosis and treatment and work for a cure.
Join me in congratulating Target Ovarian Cancer and other cancer charities on highlighting this issue and putting forward some very sensible recommendations for improving treatment.
That so many MPs came, and that they had so many personal stories to share, is down to you. In total, you sent over 1,000 emails to MPs asking them to take part, with many of you sharing your own personal experience of ovarian cancer and the impact it has had.
We asked you to join us and TAKE OVAR. Thanks to you, this week a clear message was sent to the UK government. MPs saw first-hand the strength of the ovarian cancer community and heard from you about what needs to be done. We will not stop until we see an improvement in awareness, treatment and support for women with ovarian cancer, wherever they live in the UK.