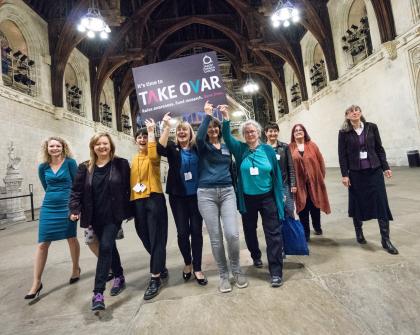 From securing symptoms awareness campaigns to convincing elected representatives to act, our campaigners have achieved some amazing things over the past few years:  
Awareness
During the pandemic, action from our campaigners led elected representatives from across the UK to share the symptoms of ovarian cancer.
Over 14,000 campaigners signed our call to action demanding UK governments transform early diagnosis of ovarian cancer. Thanks to your campaigning, they listened. NHS England launched the first-ever nationwide awareness campaign which includes ovarian cancer symptoms. 
Our campaigning resulted in the inclusion of ovarian cancer in local and regional pilots as part of Be Clear on Cancer. This was a government-funded programme aiming to raise awareness of the symptoms of cancer in England, and led the way to the nationwide campaign. 
Treatment 
Would you like to be part of our next big win? Our campaigning toolkit has everything you need to start campaigning with us or take your campaigning to the next level.