Donations from trusts and foundations are fundamental for our work. As the UK's leading ovarian cancer charity, we work to improve early diagnosis, fund life-saving research and provide much-needed support to women with ovarian cancer. We're the only charity fighting ovarian cancer on all three of these fronts, across all four nations of the UK.
Your support will help us:
Get in touch
To find out how you can make a difference to people affected by ovarian cancer, please call on 020 7923 5474 or email fundraising@targetovariancancer.org.uk.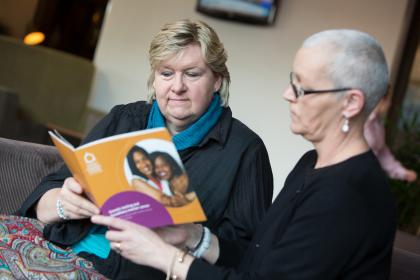 A special thank you
We're very grateful to the trusts and foundations that give valuable support to our work. Here are just some examples of how they are helping us.
The Louis Baylis Charitable Trust (Maidenhead Advertiser) has supported Target Ovarian Cancer since we launched in 2008. We're very grateful to the Trust for its continued and regular support towards core costs, enabling us to save lives and help women with ovarian cancer live their lives to the full.
Help for Health, Helping East Yorkshire and Lincolnshire People funds support and information for women and their families and friends in East Yorkshire. This gives women in East Yorkshire better access to our support line and our award-winning mini guides and authoritative information leaflets.