When you need information, support or someone to talk to that understands – call our specialist nurses.
Call our specialist nurses
020 7923 5475 
Our support line is open Monday-Friday 9-5pm. We're closed on bank holidays.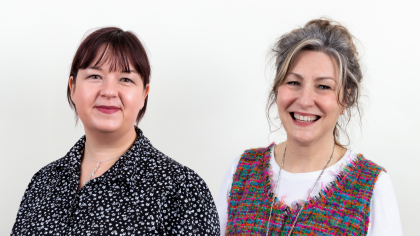 Picking up the phone and talking to our specialist nurses, Rachel or Val, can be a real comfort. No question or concern is too small or big, and they've had hundreds of conversations with people coming to terms with ovarian cancer.  You're in safe hands.   
Don't feel like talking on the phone or the support line is closed? 
We understand that speaking on the phone is not for everyone, so you can get in touch in another way that feels right for you:  
We aim to reply to emails and contact forms within 2 working days, but will often be in contact sooner. 
Your nurse led helpline has been amazing and a support for myself and my family especially during covid. Without it I don't know how I would've got through every day.
---
Unsure about using our support line?
If you've got questions about whether our nurse-led support line is right for you, why not use our simple tool to help you find out. 
Support line news: Telephone system upgrade 
New welcome message

We're committed to providing high quality services for everyone affected by ovarian cancer, and to take steps to improve our support line service further we have upgraded our telephone system.  

If you have previously contacted our support line, you may notice a few changes when you call: 

When you call during our opening hours, you'll now hear a short recorded message before being connected to a specialist nurse. This isn't a voicemail – it's a quick and efficient way for us to welcome you to our service and advise you about how we keep you and your information safe. 

This change allows us to streamline the process and provide you with the best possible support.  

We understand change can be surprising, but we kindly ask that you don't hang up when you hear the recorded message. After the brief message, you'll be promptly connected to one of our specialist nurses. 
Planned support line closures
The support line will be closed on the following dates:
6 December 2023 (staff training)
25 and 26 December, (bank holidays)
27,28 and 29 December (Christmas break)
1 January (bank holiday)
When the support line is closed you can leave a voicemail and we will call you back or you can complete our contact form. 
---
Why do people call us? 
You can call us about anything to do with ovarian cancer. We're here to listen. Some reasons why people have contacted us in the past are:  
worries about ovarian cancer symptoms 

visiting the GP and having tests 

if they've just been diagnosed 

questions about treatment including chemotherapy 

emotional or mental wellbeing worries 

technical questions about ovarian cancer drugs, surgery or clinical trials 

even if they have no idea what they're looking for, and just want to talk – there are no bad questions 
---
Frequently asked questions about the support line
What will happen if I call the support line? 

You will hear a brief welcome message before your call is answered by one of our two nurse specialists. They'll introduce themselves, ask your name and help you to settle into the call. The nurse will listen to you and help you explain your situation, and any concerns or questions you might have. This is your time, and the nurse will give you as much of it as you need. 

Sometimes our nurses might be busy on other calls. If this happens another staff member from our supportive services team will answer your call, ask you for your details and arrange for a nurse to call you back as soon as possible. 

What if I get upset?

Lots of people worry that they may get upset or cry when they call our support line. Please don't let this put you off calling.

Our nurses understand that those who need our support are often in situations that cause them to be anxious or emotional. They'll give you the time and space you need to be able to explain your situation. If you don't feel able to talk on the phone, why not complete our contact form? With your permission, our nurses can then call you to get the conversation started. 

Can I call again if I need more support? 

You can use our support line as much or as little as you need! 

We often support people over long periods of time. For others, they only need our support on one or two occasions. We're here to offer support in a way that feels right for you. 

I'm unsure whether the support line is suitable for me?

Our support line is for anyone affected by ovarian cancer including family, friends and loved ones. You can use our simple tool to help answer your questions about using our nurse-led support line.
The information provided by the support line is not intended to be a substitute for professional medical care. We would always advise you to check with your GP or your clinical team if you have any specific concerns about your condition or treatment. Please be aware we store information about people using the support line in line with our privacy notice. 
We are only trained to provide advice on the symptoms, risk, diagnosis, treatment and management of ovarian cancer in the UK.