Raising awareness of ovarian cancer is vital in improving early diagnosis. Currently, just 1 in 5 women can name bloating as a symptom of ovarian cancer. We want to change that.
Will you help us raise awareness of ovarian cancer and help us save lives?
How you can raise awareness
Share symptoms information in person
Do you know the symptoms of ovarian cancer? Do your friends and family?
Raise awareness among your community and order your awareness materials.
We offer a range of posters, leaflets, pin badges and more to help you spread the word.
Share symptoms information online
Share our symptoms infographics of ovarian cancer on Facebook [PDF], Twitter [PDF] and Instagram [PDF].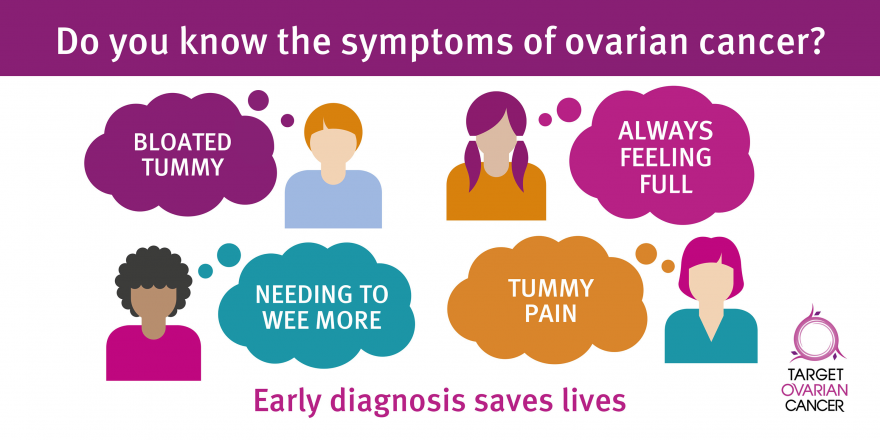 Join us online
Follow and share our updates on social media across Facebook, Twitter and Instagram.
By working with us online to raise awareness, you could help us reach hundreds if not thousands of women and help to educate them on the symptoms of ovarian cancer. Knowing the symptoms and when to visit the GP can vastly improve early diagnosis and save lives.
Why is it important to raise awareness?
Put simply, the earlier a woman is diagnosed, the greater her chance of survival. But 1 in 5 women diagnosed with ovarian cancer are already too ill for treatment. It's vital that awareness of this disease is raised.
Women must feel empowered to go to the GP as soon as they notice something is wrong, so it's essential that they know the symptoms to look out for. As well as lobbying for a national awareness campaign, we work to get our awareness materials out into local communities, schools, GP practices and pharmacies. 
1 in 50 women will be diagnosed with ovarian cancer in their lifetime. So let's make sure they know the symptoms and get to the GP at the earliest opportunity.
Order your awareness materials or join us as a campaigner and make sure key decision-makers act on ovarian cancer.
Raising awareness for GPs
It's also essential that GPs are trained to spot ovarian cancer symptoms at the earliest opportunity, and are able to either diagnose or rule it out quickly. We present at GP training days, give out GP toolkits, and offer an online training module for GPs to update their knowledge on early diagnosis of ovarian cancer.