Update: March 2020
In light of the developing coronavirus (Covid-19) situation, we've taken the decision to cancel all station collections for the time being. We'll continue to monitor the situation and share any relevant updates.
---
Hold a collection
Holding a collection is a great way to raise funds as well as vital awareness with the public. We can help you secure permission from local authorities, as well as the relevant permits or licenses. 
We'll also send you all the materials you'll need for the day, including collection buckets, symptoms leaflets and your own Target Ovarian Cancer t-shirt. If you want to organise a collection, get in touch and we can support you: fundraising@targetovariancancer.org.uk.
Volunteer at our station collections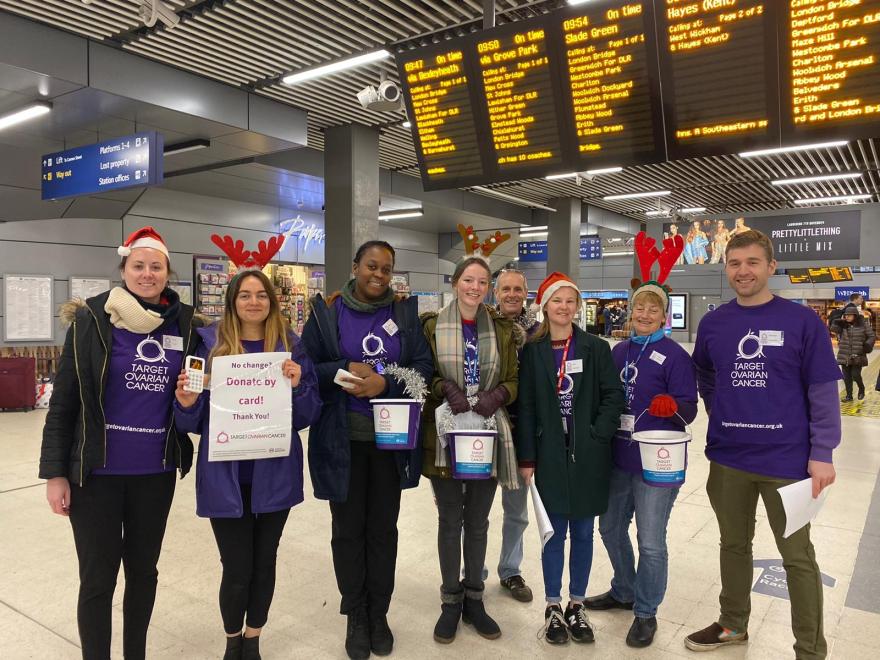 Live in or near London? Help raise funds and awareness for Target Ovarian Cancer by volunteering at one of our regular station collections! Just two hours of your time could raise enough to pay for half a day of medical research into new treatments for ovarian cancer. 
Our collections take place every week at stations all across London, and raise £800 on average each! Shifts run from 8-10am and 4.30-6.30pm, and you can attend as many or as few as you like. So if you're friendly, confident and want to make a difference, get in touch and join Team Target: fundraising@targetovariancancer.org.uk.
It's fun; you get to meet lots of members of the public, raise awareness of ovarian cancer and make a real difference by collecting funds.
Upcoming collection dates
Our collections are currently on hold due to Covid-19.