In every nation of the UK, too few people know the symptoms of ovarian cancer. On top of that, the pandemic has led to more women feeling worried about contacting their GP if they think something is wrong. 
We need to ensure every woman knows the symptoms and feels empowered to contact their GP at the earliest opportunity. This is the crucial first step in ensuring more women are diagnosed earlier. 
How to raise awareness
There are several ways you can raise awareness of ovarian cancer to help save lives. 
On social media

With so many people on social media, this is a fantastic tool for campaigning, as it means we can spread the word far and wide. 

If you use social media, you can help raise awareness of the symptoms by sharing our ovarian cancer symptoms placard [PDF] on your Facebook, Twitter or Instagram account with this message:

Do you know the symptoms of ovarian cancer? I'm joining @TargetOvarian in raising awareness to save lives. Contact your GP if you're worried. The main symptoms of ovarian cancer are: bloated tummy, always feeling full, tummy pain and needing to wee more.

After you've done this, ask three people you know to do the same or share what you've posted. If everyone who posted did this, it would help save even more lives.

Campaigning top tip – get creative! You could record a video of yourself explaining why you're passionate about ovarian cancer, telling people the symptoms and to visit our website. Or design your own placard showing the symptoms. Try to think about what will catch people's attention and help them remember your post. 

In your community

Posters

One of the most vital ways of raising awareness of the symptoms of ovarian cancer is through displaying posters in places like pharmacies, GP surgeries and shops. Even during the pandemic, people are still visiting these places to collect their prescriptions, see their doctors and do their shopping, so having posters up will have a big impact. 

You can download our symptoms poster [PDF] and get in touch with your pharmacy, GP surgery or local shop so they can print the poster and display it in their premises. The best person for you to contact is the manager, either by emailing or phoning them.

Explain a little bit about ovarian cancer, why it's important that women know the symptoms to look out for and why you feel so passionately about raising awareness. You could also say how it will save lives as there will be many women who will visit their pharmacy, surgery or shop, see the posters and tell their GP as a result. 

Social media

Some pharmacies, GP surgeries or local shops may also have social media accounts. So as well as asking them to display posters in their premises, you could also request they post on Facebook or Twitter. You can send them our ovarian cancer symptoms placard [PDF] in an email.

Setting up a stall

You could set up a stall in your GP surgery reception area or at a local community event. This way, you can provide information directly to people in your wider community. We can supply the materials and offer advice on speaking about ovarian cancer. If you're nervous about doing this on your own, why not see if a family or member or friend would like to help? 

Campaigning top tip – why not set up your own an awareness raising event either virtually or in person, with fun activities and games, where people could also learn about the symptoms? You could do you this on your own or ask others to help organise and host it with you. 
Della's story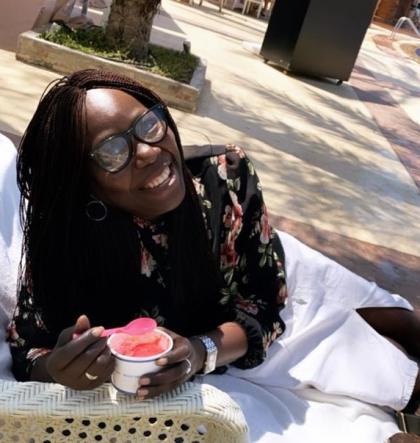 When Della was diagnosed with ovarian cancer, she was determined to raise awareness of ovarian cancer in her community. She is passionate about making sure black people are represented in national cancer awareness campaigns ​and are aware of genetic testing for BRCA.
I want to educate people about ovarian cancer, especially within my own community. One of the biggest problems we have is linked to representation. We see white people all the time in cancer adverts and sometimes it's easy to think that only white people get cancer. We get cancer too. We should see ourselves in everything you do. It's really important for me to have this representation.
We'd love to know how you've been campaigning to raise awareness of ovarian cancer. Email us: campaigns@targetovariancancer.org.uk.