There are hundreds of events all across the UK – whatever you're looking for, we've got the event for you! When you join Team Target, you could be part of the next big breakthrough in ovarian cancer treatment, as you help to raise awareness, fund research and save lives.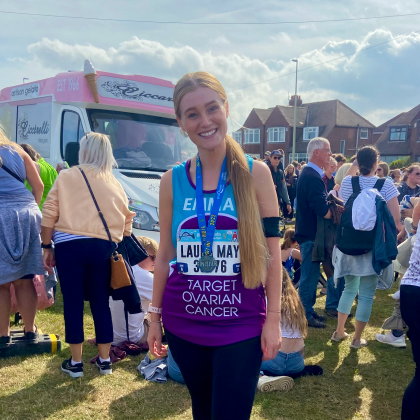 I run the Great North Run for my sister Em, who was diagnosed with ovarian cancer at the age of just 21. Never in a million years did I think I would be able to run, let alone a half marathon... now twice! Back in 2020, I couldn't even run 1k without stopping, but knowing that I was doing it for Em gave me so much strength. She is my inspiration every single day. I'm really proud of what I've achieved, not just physically but also raising money to help other families going through the same thing.
What you can expect from us
Whatever you sign up for, we'll give you the same high level of support: 
A fundraising guide filled with help, advice and top tips to increase your sponsorship. 

A dedicated member of our fundraising team to help you every step of the way. 

Free fundraising materials to help you raise awareness of your challenge and the charity.

A Target Ovarian Cancer t-shirt (or pay £7 to upgrade to a running vest!) 

Access to online training and nutritional plans. 
If you have any queries, please contact us at [email protected].