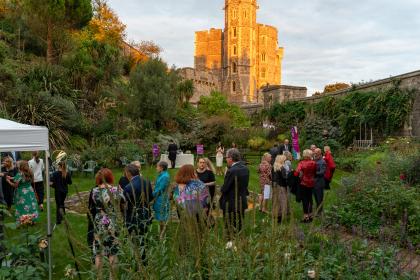 Our Patrons play a leading role in raising awareness, funding world-class research, and saving lives. Together, they help us move closer to the future we see: a future where fewer women die of ovarian cancer, and more women with ovarian cancer live longer and live well. 
It is vital to raise awareness of this disease. We are delighted to support Target Ovarian Cancer in its work by making an annual donation.
By pledging to give £5,000 each year for three years, our Patrons help secure our future and our work to transform ovarian cancer through early diagnosis, research and support.
Founder members
We're incredibly grateful for the support of our Founder members:
Jennie Allen
Margaret Chamberlain
Anabel Fielding
Carol Kennedy
Sir Hugh and Lady Stevenson
Patrons
Patricia Beecham
Judy Craymer CBE
Felicity Howard-Allen
Emma Kane
Anna and Chris Smith
Nabil and Suzanne Naaman
David Lacey
Become a Patron
Patrons will see first-hand the impact we can have together for women with ovarian cancer across the UK:
Join us for an exclusive lab tour at one of our projects. Speak to leading researchers about their latest findings and the implications of their work.
Be acknowledged on our website and in our annual report.
Attend exclusive Target Ovarian Cancer events.
Receive a Patrons' bi-annual briefing and regular updates on our impact.
If you'd like to become a Patron, please email Susan Booth, Executive Director, Development: fundraising@targetovariancancer.org.uk.