1 in 50 women will be diagnosed in their lifetime. That's why each March, during Ovarian Cancer Awareness Month, we challenge our supporters to tell 50 people about the symptoms of ovarian cancer. It's simple – and could save a life.
While March is a prime time to push for awareness, you can take on the challenge throughout the year.
Share the symptoms online
Share on social media
Download and share our ovarian cancer symptoms infographics on Facebook [PDF], Twitter [PDF] and Instagram [PDF]. You could even record a video explaining why you're sharing the symptoms and why it's important others share them too.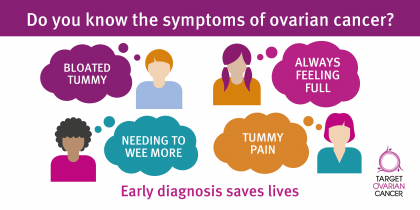 Follow us and share our updates
Follow us and share our updates on social media. We're always posting awareness updates on our social channels which are easy to share with your friends and family. Check out our pages on Facebook, Twitter and Instagram.
Spread the word on email
Share the symptoms in an email to your friends and family or even to your colleagues and members of your local community. Let them know why you're taking on our challenge and encourage them to share the symptoms too. You can share our symptoms infographic [PDF] or include the symptoms directly in your message:
Persistent bloated tummy
Always feeling full
Tummy pain
Needing to wee more
Share the symptoms offline
Whether it's a poster in your local shop or leaflets for your GP surgery, raise awareness offline in your community.  
You can download our symptoms poster [PDF] and get in touch with your pharmacy, GP surgery or local shop so they can print the poster and display it in their premises. The best person for you to contact is the manager, either by emailing or phoning them.
Order your awareness materials such as our leaflets, posters and more for free.