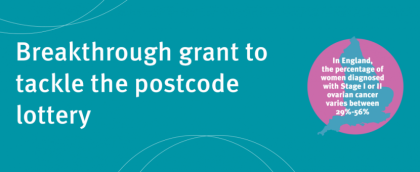 Target Ovarian Cancer has been at the forefront of early diagnosis in ovarian cancer for over 10 years. Thanks to transformational funding from the Peter Sowerby Foundation, we're now announcing a sector-first initiative to tackle the problem in a radically new way.
We urgently need to eradicate the postcode lottery
We know there is a postcode lottery in early diagnosis of ovarian cancer – a huge variation in how early women are diagnosed, depending on where they live. The best performing areas currently diagnose up to 60 per cent of women with ovarian cancer early (stages I and II). The worst catch less than a third early.
This transformational programme means we can tackle the postcode lottery, side by side with women with ovarian cancer, until every woman is diagnosed at the earliest possible stage. An additional 2,000 women would survive one year or longer if we could raise performance in the worst areas to the same level as the best areas.
A new way to approach early diagnosis
There are three key delays in diagnosis to tackle – delays because of the public's lack of awareness of the symptoms of ovarian cancer, delays because of GPs' lack of ovarian cancer knowledge, and delays due to issues in the diagnostic pathway. Our ambitious new project will target each one of these to eradicate the postcode lottery in early diagnosis of ovarian cancer in the UK.
Thanks to Peter Sowerby Foundation funding, for the first time we can take a deep dive into these delays. We want to understand from areas with high rates of early stage diagnoses, to identify what works, and to share learning and best practice across the country.
How will it work?
Using a range of well-established statistics (for example, the number of women who survive for one year after diagnosis) as a proxy for how well local systems and pathways are performing, we will identify four Clinical Commissioning Groups (CCGs) to focus on – two with high numbers of women diagnosed early and two with low numbers. We will look closely at their diagnostic pathways to see how effective they are, and what can be improved where they are not working.
Stage two of the programme will take these results and develop and test direct interventions in CCG pathways over a two-year period.
Finally, we will share our findings. By the time we've completed this groundbreaking piece of research, we will understand and be able to share practical and relevant expertise that will help CCGs across the UK to diagnose ovarian cancer early.
Annwen Jones, Chief Executive of Target Ovarian Cancer, said:
The significance of a grant of this size in ovarian cancer cannot be underestimated. The fact that we could see 2,000 more women living at least one year longer is staggering, and I am proud to be able to tell the women who have fought long and hard for early diagnosis of ovarian cancer that today's grant will help us make that happen. We are extremely grateful to the Peter Sowerby Foundation for awarding Target Ovarian Cancer with this major grant.
David Aspinall, Chair of the Peter Sowerby Foundation, said:
The Peter Sowerby Foundation is delighted to fund this highly innovative Target Ovarian Cancer project. It is vital that CCGs and clinicians have the tools and support to make achievable and pragmatic changes that will ultimately lead more women to be diagnosed early from ovarian cancer. This project will save lives.