Gamechanging treatment niraparib (Zejula®) is now available to newly diagnosed women with advanced ovarian cancer across the UK. Niraparib is a type of drug called a PARP inhibitor and works by stopping cancer cells from repairing themselves. 
This landmark announcement means that women with advanced ovarian cancer, regardless of whether they have a BRCA mutation, will be able to access a PARP inhibitor from their first line of treatment. This adds up to thousands of newly diagnosed women – a first in ovarian cancer. 
Why is this important? 
At the moment, the majority of women are diagnosed once the cancer has already spread, making it harder to treat and more likely to come back. Up until now, niraparib was only available to people whose cancer had come back (recurrent ovarian cancer). Accessing ovarian cancer drugs earlier means there's a better chance of surviving ovarian cancer from the outset.  
Annwen Jones OBE, Chief Executive of Target Ovarian Cancer, said: 
Today's announcement is a major milestone in the fight against ovarian cancer. With two thirds of women unfortunately diagnosed with later stage disease, it is absolutely crucial that more effective treatments are available. This is the biggest breakthrough in ovarian cancer drugs since the introduction of the chemotherapy drug paclitaxel – Taxol – in the 1990s.
Lyndsey Hadden, 64 from Enfield, has been taking niraparib since November 2019. She said: 
I was diagnosed four years ago and started taking niraparib after the ovarian cancer spread to my brain. After two brain surgeries and further radiotherapy, niraparib has given me another lease of life. It's much less harsh than some other treatments and I'm doing really well. It meant I could get back to my life including doing yoga, walking and swimming (when lockdown permits!)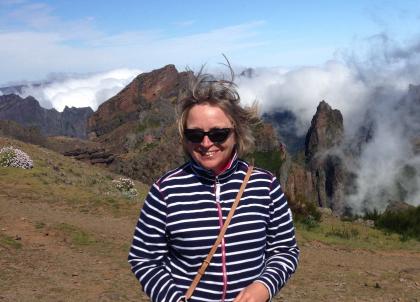 Who will be able to access this treatment?  
It'll be available women with advanced (stage III or IV) high-grade epithelial ovarian, fallopian tube or primary peritoneal cancer after response to first-line platinum-based chemotherapy.  
It's being made available on the Cancer Drugs Fund in England and will be made available on the same basis in Wales and Northern Ireland. In Scotland the Scottish Medicines Consortium (SMC) has also approved niraparib for first-line treatment.
What was Target Ovarian Cancer's role?  
We've always championed better access to new cancer drugs. We played an active role in the National Institute for Health and Care Excellence (NICE) and SMC appraisal process by submitting evidence and acting as the patient expert at NICE and SMC committee meetings. If you'd like to find out more about our campaigns for improved treatment, join our campaigns network.