West End stars have joined together to release a special single for Target Ovarian Cancer. Featuring guitars from Queen's Brian May, WOMAN's I'm A Woman single is now available to download.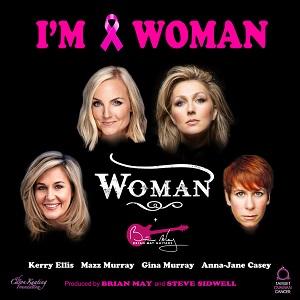 Introducing the band
The WOMAN supergroup features four of rock musical theatre's most powerful female voices and We Will Rock You alumni – Mazz Murray, Kerry Ellis, Gina Murray and Anna-Jane Casey. Mazz also played Donna in the London production of MAMMA MIA! – and has helped us raise awareness and funds over the past year.
 
Together with Brian May, WOMAN has created a storming blues rock version of Peggy Lee's classic 1962 song, I'm A Woman.
Brian May said:
This recording was conceived as a response to a calling to promote this great cause for women's health.  But it evolved into a magnificently defiant rock track in its own right. These four women all rock out sensationally, and it was pure joy to underpin their performances with my guitar
Inspiration and importance
The track's inspiration was to create something special in the memory of Rebekah Gibbs, another female West End star. The British actress became a household name in TV soap Casualty before she was diagnosed with breast cancer in 2009, and tragically died in 2014.
WOMAN founder and close friend, Mazz Murray, said:
We are thinking particularly of our dear friend and fellow performer Rebekah, who we lost, but not before she brought about a change... and saved so many lives
Susan Booth, Director of Development at Target Ovarian Cancer, said:
This is such an awesome project. We are so thankful to Mazz, Brian, Kerry, Gina and Anna and their teams for all their hard work in producing such a brilliant track to raise money and awareness for both breast and ovarian cancer. Over 7,000 women are diagnosed with ovarian cancer in the UK every year and with the support of artists like WOMAN and Dr May and all of their fans we will be there for all of them.
Buy and download the track or pre-order the vinyl and CD.
Watch the video for WOMAN's I'm A Woman: