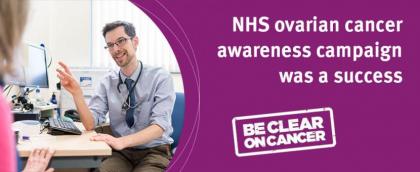 Public cancer awareness campaigns do work, according to encouraging evidence published this week. Target Ovarian Cancer has had a first look at results from a Be Clear on Cancer awareness campaign featuring a key symptom of ovarian cancer - bloating. The campaign ran in North West England from February-March 2014.
Feeling bloated most days
Be Clear on Cancer is run by Public Health England in partnership with the NHS, and Target Ovarian Cancer helped to get the campaign kick-started by providing expert advice. We wanted to raise public awareness of ovarian cancer symptoms, and get people to visit their GP as soon as possible if they were worried about anything.
The main message of the campaign was: "Feeling bloated most days for three or more weeks could be a sign of ovarian cancer. Tell your doctor." It featured in TV and radio ads, newspapers, online and on big display ads in public places.
Why just bloating?
Bloating made the most sense, as it's one of the key symptoms of ovarian cancer. The creators of the campaign wanted to keep things simple by encouraging people to remember and look out for one symptom in particular.
How was the awareness campaign successful?
There are lots of things to look at when you're measuring the success of an awareness campaign. The official evaluation report published by Public Health England clearly shows that there was an increase in awareness of bloating as a symptom of ovarian cancer, with twice as many women over 50 going to their GP with concerns about bloating in the week after the campaign was launched.
We also saw an encouraging increase in women being referred for further ovarian cancer tests and investigations - urgent GP referrals for suspected gynaecological cancers increased by up to 35 per cent, depending on the age group. There was also a significant increase in CA125 blood tests, with 80 per cent more tests ordered.
This report shows no evidence that there was an impact on numbers of cancers diagnosed, or that the cancers were diagnosed at an earlier stage. This was most likely due to the fact that this was a regional campaign where small numbers of women were diagnosed with ovarian cancer, and it ran over just two months.
Dr Sharon Tate, Head of Primary Care Development at Target Ovarian Cancer, said:
We want to make sure every woman diagnosed with ovarian cancer has the best chances of survival. For that to happen, every woman should receive a prompt diagnosis, as soon as possible after she first visits the GP with symptoms. Today's results show how effective a Be Clear on Cancer campaign can be in increasing awareness of bloating, a key symptom of ovarian cancer. We now want to see government-funded awareness campaigns on the symptoms of ovarian cancer rolled out across the UK.