20,000 of you have added your name to our open letter to government.  
We're raising our voices, and this is our chance to make decision makers listen. 
On 28 June, Target Ovarian Cancer campaigners marched to Number 10 Downing Street to amplify the voices of thousands of people who have signed our open letter.  
In our letter, we're demanding that the government take urgent action to save lives. We need to see dedicated ovarian cancer symptoms awareness campaigns across the UK now. 
This momentous milestone comes following the alarming findings of our latest research which revealed that four out of five women could not name the key symptom of ovarian cancer, persistent bloating, and lack of awareness is just as bad for the other symptoms – abdominal pain, feeling full and needing to wee more urgently.  
Annwen Jones OBE, Chief Executive of Target Ovarian Cancer, said: 
At Target Ovarian Cancer, we know that there is a huge crisis in ovarian cancer awareness and diagnosis and are overwhelmed by the strength of support our open letter has received. It's extremely sobering to see over 20,000 people come together to demand that the government take immediate action to save lives. 20,000 voices cannot be ignored. 

We stood outside Number 10 on Tuesday 28 June representing everyone who has ever been affected by ovarian cancer, and we will be standing there together for them and their loved ones.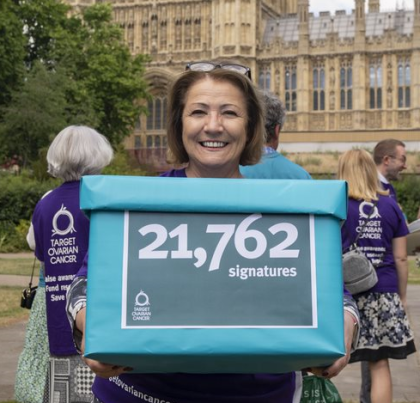 One supporter who joined with fellow campaigners to hand in the letter is Annie Griffin, who was diagnosed with stage I mucinous ovarian cancer in 2020. Annie said: 
If we don't share our ovarian cancer experiences with our MPs how will they know what we go through? How can we expect change if we don't speak up? 

The weeks and months that it took to get diagnosed and finally understand what was wrong with me took their toll. I genuinely thought it was middle age, perimenopause, and fibroids. Nothing rang alarm bells, and I don't want that to happen to other women. That's why we need more awareness around ovarian cancer, that's why I'm on a mission to help make that happen.  

We will be outside Westminster on Tuesday 28 June on behalf of every one of you who took the time to sign our open letter to the government. It's time urgent action was taken on the ovarian cancer awareness crisis.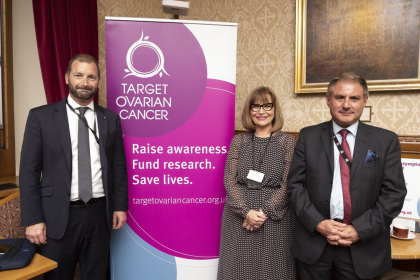 Also representing 20,000 of you at Number 10 was Della Ogunleye, who was diagnosed with ovarian cancer in 2019. Della added:
Target Ovarian Cancer amplifies our voices. Together, we can reach places and have conversations that we may not be able to achieve alone. The saying goes, if you want to go fast go alone, if you want to go far go together.
We're all going together with Target Ovarian Cancer. We need greater awareness of symptoms now. If we stand together our voices are louder.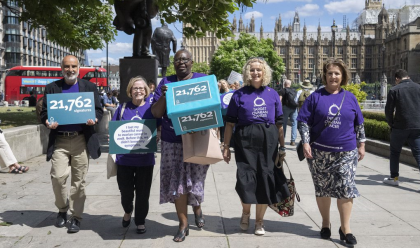 We won't be silent. Together, we will not stop campaigning to make change happen. 
We've achieved so much together and we're determined to keep going, but we rely on your support to make this possible. Will you donate so that we can continue to campaign for change, and achieve our next big win?