An innovative combination of ovarian cancer drugs is now available to more women with ovarian cancer than ever before. It's the first time two ovarian cancer drugs olaparib (Lynparza®) and bevacizumab (Avastin®) have been made available in combination for newly diagnosed women with ovarian cancer. 
Following today's decision from the Scottish Medicines Consortium, this pioneering drug combination is now available UK-wide.
Why is this exciting?  
This is a big step forward in personalised treatments for ovarian cancer. Thanks to new genomic testing, people on the treatment will know that it's much more likely to work on their tumour.  
This combination will be available to around half of women newly diagnosed with advanced high-grade serous ovarian cancer (the most common type). Through new genomic testing, tumours will be tested to see if they are more susceptible to these drugs (HRD testing). Now this is in place, more women than ever before will be able to access personalised ovarian cancer drugs from their very first treatment, giving them a better chance of survival. 
Who will be able to access this? 
This treatment will be available to someone who is newly diagnosed (from the first line of treatment): 
Annwen Jones OBE, Chief Executive of Target Ovarian Cancer, said: 
This announcement is an extremely positive sign of the progress we're now making in ovarian cancer treatment. The introduction of HRD testing means that so many more women will receive treatment personalised to them. The future we want to see – where every woman with ovarian cancer has access to innovative treatments – has come a big step closer.
Ann Merchant, 69, from Gloucestershire, was diagnosed in 2017. She has been treated with both bevacizumab and olaparib. She said:  
Taking bevacizumab and then olaparib has made such a difference to me. I feel so much better. Because of the Covid-19 lockdown, I wasn't able to finish chemotherapy and I was really nervous, but then I started taking olaparib and it's been brilliant – I feel just like I did before I had cancer.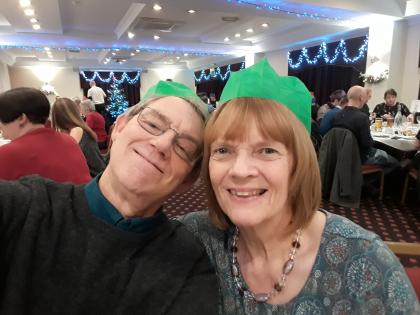 What is HRD?   
Homologous recombination deficiency (HRD) is the inability to repair breaks in a cell's DNA. This means that the cancer cell has a harder time repairing itself, and it makes olaparib more effective.  
Until recently, it was thought that HRD was caused almost exclusively by a BRCA1 or BRCA2 mutation. But we now know that a much larger group of women actually test positive for HRD – around half of women with high-grade serous ovarian cancer. 
We've been pushing for newer and better ovarian cancer treatments for a decade. Support this work by making a donation or becoming a campaigner.