For too long women have been receiving an ovarian cancer diagnosis too late. This must change – and we will not stop until women are diagnosed at the earliest possible stage.  
Fast Forward to Early Diagnosis has been our focus this Ovarian Cancer Awareness Month because we know early diagnosis saves lives.  
As we've campaigned, shared stories and raised awareness among politicians and the public, behind the scenes we've been working on a  project – the first of its kind – with GPs and healthcare professionals to test new ways to help diagnose ovarian cancer faster.  
We've developed three interventions which healthcare professionals working in general practice can use to help them spot the symptoms of ovarian cancer and get everyone the tests they need, as fast as possible.
Why are we doing this? Because there's an unacceptable variation in the diagnosis of ovarian cancer.  
Where there is variation, there is room to improve, which is why we partnered with a number of NHS cancer alliances to work together to address this problem.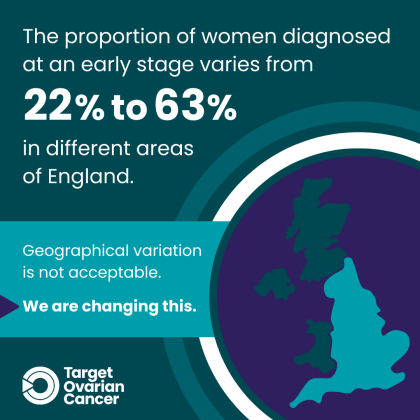 Through working with local partners, our  project – Identifying and breaking down barriers to early diagnosis of ovarian cancer in primary care: Interventions and learnings – has helped to identify simple ways we can improve local practice, showing that taking action can make a practical difference in diagnosing ovarian cancer earlier.  
Annwen Jones OBE, our Chief Executive said:
Regional variation in the diagnosis of ovarian cancer is unacceptable, and through a combination of GP education and digital intervention tools we believe we can improve early diagnosis and save lives. This has been shown to be successful in our pilot areas. It is both vital and urgent that action is taken to address regional variation in diagnosis and ensure that everyone, regardless of where they live, has the earliest possible diagnosis and the best possible outcomes.
We worked with local NHS partners to test three innovative digital interventions through GP practice systems. These included  a clinical IT alert that popped up on GP systems during consultations, and search protocols to identify women who had recently presented with symptoms and who may require follow-up.
These interventions aimed to minimise late diagnosis or missed diagnosis when women presented with the potential symptoms of ovarian cancer.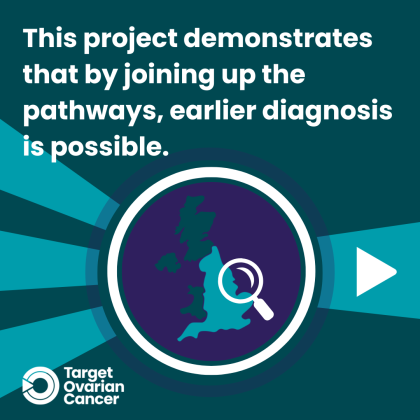 Our evaluation of these pilot interventions has shown that they were effective, easy to implement and incorporate into routine practice for primary care teams – showing that ultimately, both patient care and the diagnostic pathway can be improved.   
Dr Neil Smith, GP and cancer director for Lancashire and South Cumbria, which took part in the pilot, said: 
By working collaboratively to eliminate clinical variation and remove barriers we can ensure more women receive the right diagnosis for ovarian cancer at the earliest possible stage. The NHS in Lancashire and South Cumbria has implemented three innovative digital interventions which has led to faster diagnosis and more lives saved.
Through this project we've demonstrated how taking small steps can make a big difference for the diagnosis of ovarian cancer.
These are tools that can be put into practice by primary care teams in other parts of the UK, and we hope it will lead to more areas taking action with us through our Early Diagnosis Network to ensure everyone – no matter where they live – can get the earliest possible diagnosis.  
This is a priority for Target Ovarian Cancer and we will not stop until we see the improvements made.  
It's with huge thanks to The Peter Sowerby Project as this work would not have been possible without its generous funding.