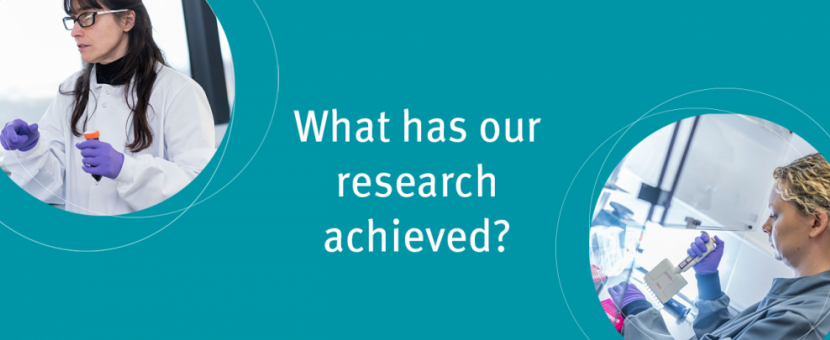 In the seven years since Target Ovarian Cancer's medical research programme was set up we have funded nearly £1.25 million in projects across the UK. Our programme is designed to benefit the most women in the shortest time frame, and has made several important contributions to current research, providing direct benefits for women with ovarian cancer. Here's a round-up of what our projects have achieved so far.
Genetic testing
Our research helped develop a new protocol for genetic testing in ovarian cancer, which is being rolled out to the benefit of women and their families across the UK.
Dr Marc Tischkowitz's landmark clinical study at the University of Cambridge aimed to ensure appropriate genetic counselling both before and after testing for BRCA gene mutations.
The study explored the benefits of counselling alongside testing for BRCA mutations in terms of cost, feasibility and benefit for women. The findings have been published in the prestigious Journal of Medical Genetics.
A new protocol, Delivering improved access to genetic testing in epithelial ovarian cancer, has also been published to enable other NHS providers set up similar models and services in their regions, benefitting even more women with ovarian cancer and their families.
Find out more about this project.
Early diagnosis
We tackled early diagnosis of ovarian cancer through research to find a novel way to detect ovarian cancer by identifying tumour DNA fragments in the blood.
There is currently no proven screening test for ovarian cancer and a complete diagnosis is only possible through investigative surgery. Dr Liz Moore's project, funded jointly with the Medical Research Council, paves the way for the development of new and more accurate diagnostic tests for ovarian cancer. This research has been published in Science Translational Medicine.
Find out more about this project.
Improving treatment
We took steps to overcoming a significant problem in ovarian cancer treatment: resistence to chemotherapy drugs. While many women with ovarian cancer respond well to the taxanes in chemotherapy drug paclitaxel, around 60 per cent go on to develop a resistance to it.
Led by Professor Ahmed Ahmed, our researchers at the University of Oxford found that ovarian cancer cells become more sensitive to paclitaxel when FER enzymes are prevented from working. This research could be translated into developing more effective therapies which enhance the effectiveness of paclitaxel treatment. The results were published in the prestigious Nature Communications in 2018. 
Find out more about this project. 
Managing symptoms
We made UK participation possible in a large international study on chemotherapy for women receiving palliative treatment.
Women with advanced ovarian cancer often experience symptoms that significantly limit their quality of life, and usually receive palliative chemotherapy to alleviate these symptoms. However, side effects from chemotherapy can also reduce quality of life and it is not clear beforehand which patients will benefit from chemotherapy. It is also unclear at what point during illness that quality of life becomes at least as important as survival time, and this study was set up to address this question.
The results from this study, published in The Oncologist in 2017, could improve communication between patient and clinician around prognosis and treatment decisions.