Dr Alison Farmer is a psycho-oncology clinical nurse specialist in Southampton. She was diagnosed with ovarian cancer when she was 40.  Alison has worked with Target Ovarian Cancer to produce their award-winning information guides for women with ovarian cancer...
---
I had very subtle symptoms, a bit of mid-cycle bleeding, and went to my GP. This isn't one of the usual symptoms of ovarian cancer. My GP told me "all women get that". I think it was only because I was a nurse that I knew that wasn't true. She reluctantly said I could see a gynaecologist who referred me for a hysteroscopy (that didn't show anything) and an ultrasound, which showed a 5cm mass. Everyone thought it was a benign cyst but the policy was to remove it. I had it removed and was initially told everything was fine. A week later, the consultant rang to tell me it was cancer.
The diagnosis didn't surprise me
It didn't surprise me, it just surprised everyone else. I feel it was only my knowledge of medicine that pushed me to get a diagnosis. I suspect a lot of women would have accepted the first assessment that everything was normal.
I wish we were more like the US where women tend to have a routine gynae check every year. Lots of women don't tend to get round to visiting their GP until the symptoms are really impacting on them.
I had surgery and chemotherapy because the tumour had burst and my cancer was stage IC. Chemotherapy was recommended and I decided to opt for it as I was keen to go for every option available.
At the time I was diagnosed I'd been studying the psychological aspects of cancer for many years. Tongue in cheek, I referred to my cancer as work experience. Having your ovaries removed has an impact on your femininity in much the same way as having a breast removed. I still have quite nasty scars and would be reluctant to wear a bikini, for example. It also has the effect of plunging you into an early menopause, which is horrible and really difficult.
Your anxiety levels are so huge
I found my knowledge about relationships and how they can change – close friends can disappear – really helpful because that did happen to me. I knew there was an explanation: close friends often can't handle the distress. Other things did surprise me though. I was offered a clinical trial when I had chemotherapy and even though I had written patient information leaflets myself I couldn't process the information. I ended up saying no, which I find strange in hindsight because I know there are advantages to going in for clinical trials – but your anxiety levels are so huge.
I worked all the way through my treatment because I didn't want to look or feel like a victim, but now I think why didn't I take the opportunity to watch all of those black and white movies and read magazines? My treatment lasted six months. I had check-ups for about seven years afterwards and then they just said to come back if I was worried.
I had my daughter two years after chemo. I didn't have children before my diagnosis, which is why the impact was so devastating. My surgeon was fantastic and knew I was still hoping to have a child so he let me preserve my uterus, which is unusual. My oncologist was fantastic too: she still sends my daughter Christmas presents!
I'm now a psycho-oncology nurse
After my illness I worked at Southampton University for eight years teaching the psychological aspects of cancer. I recently decided to go back to nursing because I missed patient contact. I had been an A&E nurse but went into cancer nursing as I knew the theoretical background and wanted to use that. I'm now a psycho-oncology nurse specialist and see patients and relatives who are particularly distressed, for emotional support.    
The majority of patients don't want formal psychological support, they just want someone to listen to them and reassure them that what they're feeling is normal.
I also give lectures to other health professionals about the psychological impact of cancer. Many patients will be angry, some will be depressed, some will be in denial and some will be very positive. There's no right or wrong way to respond.
I was introduced to Target Ovarian Cancer very early on by my nurse specialist. Because of my background in health psychology and psycho-oncology, the charity also asked me to contribute to their guides for women, wearing both the health professional and patient hat.
Breast cancer has had the lion's share of research money over the years because of the numbers of women diagnosed, the significance of the breasts and their links to sexuality, motherhood and self-esteem. Breast cancer has definitely had the most attention. Because of that, the breast cancer mortality rate has fallen dramatically over the last 20 years, which is great – I just wish other cancers got the same degree of attention.
It's time to TAKE OVAR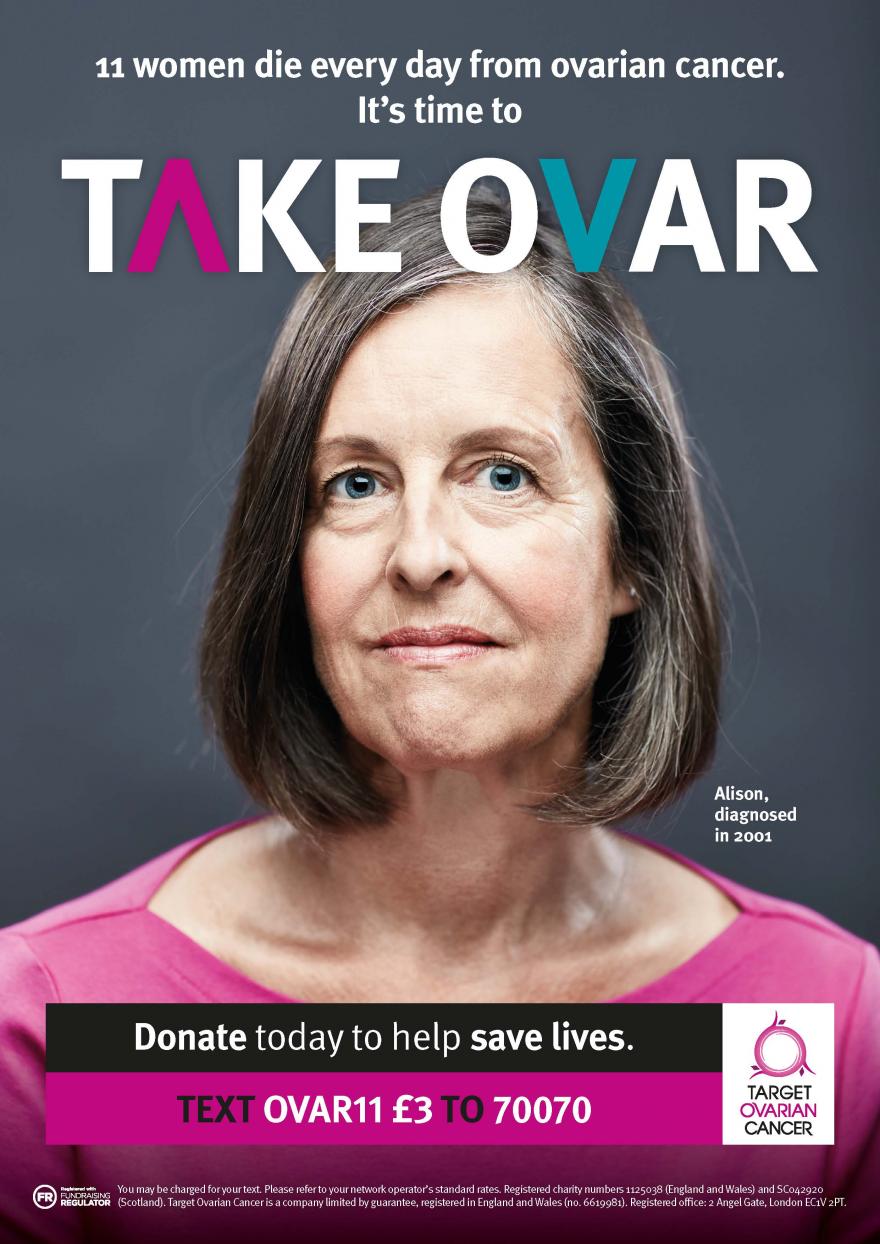 Alison is one of the the models in our campaign It's time to TAKE OVAR. She spoke to us backstage at the photoshoot this summer – watch her video.
Join the campaign and together we can make sure women in the UK have the best chances of survival.