My name is Jo Edwards. I'm 43 years old and I live in the beautiful city of Bristol. I don't look like someone who runs. I am definitely carrying a few more pounds – who am I kidding, stones – than I should be. I am a busy mum, teacher and Guide Leader. I've always hated running. Like many women of my age, I do my best to keep active and eat healthily but, other than walking, regular exercise is not part of my routine. However, over the last year that has changed.
Devastating news
I was happily living life when we were given devastating news. After several months of testing, my mum had been diagnosed with stage IV ovarian cancer.
Mum's treatment involved chemo, surgery and then more chemo. She always did her best to keep her spirits up, making it as easy as possible for her loved ones. Following her treatment, we had several precious months where she felt better. She managed to spend lots of time with her family, especially my wonderful Dad, who was a tower of strength for us all. Unfortunately, the tumour returned and Mum needed more chemo and surgery again. This treatment was sadly not effective, and Mum passed away.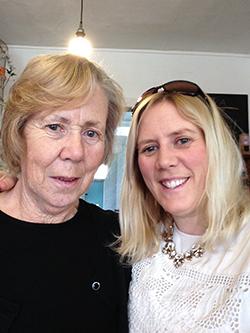 Making a change
Mum's illness scared me. I wanted to improve my own health and decided to learn to run. I downloaded a training app and began on a treadmill, too embarrassed to be seen running in public. It was exhausting and I struggled to run for a minute without stopping. However, I persevered.
After a few months, two friends persuaded me (after a few drinks) to start training with them. We got into a routine of getting up at 5.40am, three days a week, to run before work. Together, we gradually increased the distances we ran. It was hard, especially when I tripped and badly injured my face. I often felt like giving up, but Mum was my inspiration.
Running with friends
My new running buddies and I decided to enter the Bristol 10k to really test ourselves. I knew straight away that I wanted to raise money in Mum's memory. I created a JustGiving page and shared it on social media. I began to see the donations trickle in, which really helped to motivate me. I was supported by the team at Target Ovarian Cancer, who kept in contact throughout my training.
The day of the run came and, although I was extremely nervous, I did it! It took me 1 hour, 10 minutes and 29 seconds - not exactly record breaking, but I was very proud. I had all my family supporting me and I was thrilled to have raised over £2000. 
I still run regularly with my friends. I find it tough but I know that Mum would be really proud of my progress, and that keeps me going.