Jodie and her family were left shocked when wife, mum and grandma Yvonne passed away just four weeks after her ovarian cancer diagnosis. They wanted to fundraise to make a difference, and decided to take on The Ovarian Cancer Walk|Run together, driven by 10-year-old Thomas…
---
Mum was diagnosed only four weeks before her death in May last year. At the time we thought she'd had no symptoms, but looking back there were a few things. She had been quite run down and had noticed an increase in her urine frequency, although this wasn't an entirely new symptom, just an existing annoyance that had worsened.
Getting a call
Mum called me the morning after she had become unwell in the night and noticed that her stomach was very swollen. She went to the GP, who had worked in gynaecology in the past and recognised the signs straight away. Later we got the devastating news that mum had ovarian cancer and that it had already spread to her liver and bowel.  
We knew then that there was no cure because of how advanced the cancer was. The oncologist felt that she wasn't strong enough for chemotherapy following a week of being on steroids, so mum decided against having further treatment. Her condition very quickly deteriorated and she died days later.
Deciding to do something
Thomas was only 10 at the time and his Nan's death affected him quite deeply; he'd been very close with her. One day after she died I went into Thomas's room, and he had put his X-box and all his games in the middle of the floor. He just said "Mum, sell it, give all the money to cancer". He wanted to stop anyone else losing someone they love to such a cruel disease. I sat him down and suggested that we find something that we could do to raise money in a different way.
We decided on a run and he knew he wanted to do it specifically for ovarian cancer. After a bit of searching online we found Target Ovarian Cancer, who had all sorts of events on their website, including The Ovarian Cancer Walk|Run. I couldn't let Thomas do it on his own so I signed myself and my daughter Josie up as well, and then my dad decided to join us too. I wasn't very fit but I knew I could train for it. I did the 'Couch to 5K' programme and the kids came along with me on my runs sometimes, running or cycling alongside on their bikes.
Making a day of it
We drove down to London the night before and stayed in a hotel by the park. We made a day of it – had some breakfast before the run and a nice lunch afterwards. Me and the kids ran the 5k while Dad walked the 10k. I think Dad found the whole thing quite therapeutic, walking on his own. He also got chatting to a lady who had just had a recurrence of ovarian cancer. Once we'd finished the 5k we went back and met him so that we could walk across the finish line together.
I found it quite a shock to see so many people walking for the same cause, all with their own stories. The kids and I had set up a JustGiving page together and Dad had his own page too. This meant that we could raise awareness about ovarian cancer as well as fundraise to help make sure that women in the future get an early diagnosis. In the end, our page raised £1270. Doing the walk all together really helped us feel like we were doing something to make a difference.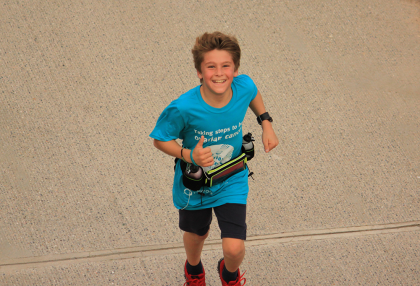 I think Thomas wants to do the run again so we might be back this year!
---
If you've been affected by this story and would like to speak to a specialist nurse, you can call our dedicated support line on 020 7923 5475 or contact us: support@targetovariancancer.org.uk. We're open from 9am until 5.30pm, Monday to Friday.