After being diagnosed at stage IV, Jo was ready to face ovarian cancer with everything she had. With support from her family and tangible goals to look towards, she's got through clinical trials, chemotherapy and cold cap sessions…
---
Just after my diagnosis a friend of my daughter's told us she was in the Queen Elizabeth Olympic Park and had seen a huge group of people doing something called The Ovarian Cancer Walk | Run. From then on that became my goal – to be at the event the following year. 
Diagnosis
I was aware of breast cancer and cervical cancer, but not ovarian, and like many women I was misdiagnosed with IBS initially. Following a diet plan I lost a lot of weight – and it was then that I found a lump. It all moved quite quickly from there. I was completely shocked when I was told it was stage IV cancer. It didn't seem possible; I looked and felt so well.
Chemotherapy was first, followed by debulking surgery. I'd already come through the menopause, so I didn't have to worry about the possibility of surgical menopause, just about losing my hair. I used a cold cap during my first round of chemotherapy. The pain is so intense, and it adds so much time to your sessions, which are already hours long. I was due to have two more chemotherapy sessions after surgery but I was unwell so didn't use the cold cap on these occasions. That was all it took for my hair to go! It didn't affect me as much as I thought it would though, and now I keep it short, almost as a badge of honour.
Trials
Luckily I had access to a few clinical trials throughout my treatment. One of the trials meant I was offered genetic testing, and I tested positive for the BRCA1 gene mutation. This opened up a whole host of other things to consider. Thankfully my daughter and my sister both tested negative, but my brother tested positive. I choose to see the opportunity of the test as a good thing – knowledge is power after all, and if I had known before my diagnosis I might have been able to take preventative measures.
I was also entered into a double-blind study on the PARP inhibitor niraparib, which is a maintenance drug that aims to keep the cancer away for longer before a recurrence. This has now been approved for use on the NHS, which is great, but unfortunately it wasn't effective for me.
Speedwalking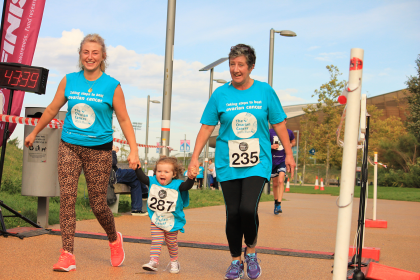 I was so proud to be at The Ovarian Cancer Walk | Run, after setting it as a goal the year before when my journey had only just begun. It really shocked me how many people were there, all affected by this particular cancer. I was reduced to tears.
Me, my daughter Chloe and my granddaughter Lilah did the 5k walk. I wanted to run but it was difficult so in the end we had to speedwalk, with Lilah in the buggy as she was only 19 months old. Near the end of the race we abandoned the buggy, because we wanted to run the last bit, so we were swinging Lilah in between the two of us! It was a really lovely day.
Onwards
After the walk I was still attending appointments regularly for various tests and to receive the maintenance drugs I was taking in the clinical trial. It was at one of these appointments that I got the devastating news that my cancer had come back.
I've just finished treatment again, with a different combination of chemotherapy drugs this time. The hardest thing for me has been getting my head around the difference in attitude from doctors with my recurrence. During my initial treatment it felt like we were all really trying to beat it, but with the recurrence we're very much focused on keeping it at bay from now on. It's difficult to get your head around that when all you want to do is fight.
I lost my father when I was quite young and we were kept in the dark about what he was going through, which was well-intentioned but made us quite scared. Because of this I've made sure to be really transparent about everything with my family, and they've been so supportive.
My daughter is expecting again this summer, so that's something lovely for me to focus on. It sounds strange but I feel a kind of privilege to be part of this community, to see the work that doctors do and to see how many others are living with this too. I really hope to be well enough to do The Ovarian Cancer Walk | Run again this year.
---
If you've been affected by this story and would like to speak to a specialist nurse, you can call our dedicated support line on 020 7923 5475 or contact us: support@targetovariancancer.org.uk. We're open from 9am until 5.30pm, Monday to Friday.