When Sara was diagnosed with advanced ovarian cancer, all sorts of questions ran through her head, but the one she remembers most clearly is: "Will I live to see Christmas?". Here Sara talks about the misconceptions surrounding late-stage ovarian cancer, cycling from London to Paris and why she's determined not to let her diagnosis define her…
---
Sometimes I worry about the end, but I also worried about dying long before I developed cancer too. I try to be a positive person and get on with my life. I cycle regularly, although at a slower pace during and after treatment, which has been a big lift for me. It's so good to get back into things that I was doing before my diagnosis.
Cycling
Some friends and I had recently started training for The Nightrider in London. We were out cycling two or three evenings a week and I started to lose weight. I just thought it was a side effect of the training, so I didn't think any more of it. I had a good appetite and no bloating. I've had IBS for about 20 years, so although I had the odd stomach twinge and constipation I thought it was due to that.
A few months later I came back from holiday and started suffering with bad constipation. I went to the GP and she did a CA125 blood test. After the appointment, the GP called me back and told me she was a bit worried because my CA125 was quite high at 299. She said I would need an ultrasound scan.
I had to wait about a week for the scan – and that was a bit of a worrying time. I finally got the results and it showed a 7cm growth on my right ovary. The GP told me it looked like ovarian cancer.
Positive
I was referred to the local oncology service where the surgeon told me the cancer was stage III/IV and he would operate within a week. The week after I saw a clinical nurse specialist and she made me feel more hopeful. I was wondering if I was going to see Christmas, and everyone helped me to see that it was possible to survive for a long time with this disease.
It was decided that surgery would be delayed to see if they could shrink the tumour first. I went on a clinical trial – ICON 8b trial – chemotherapy weekly, which meant two days a week at the hospital. After three rounds of chemotherapy I had a full hysterectomy, bowel resection and removal of my appendix, peritoneum and part of the surface of my liver.
Chemotherapy did not affect me as much as I thought it might. I lost hair, eyebrows, lashes and had a metallic taste for some of the time, but didn't feel tired or fatigued. Now my treatment is complete, I'll stay on Avastin for another year.
Challenge
As we were completing The Nightrider, my cycling friends and I started discussing what our next challenge would be. We decided there and then we wanted to cycle 230 miles from London to Paris to raise money for Target Ovarian Cancer.
After my diagnosis, training was sometimes difficult due to chemo and operations. The Target Ovarian Cancer team were really helpful along the way, providing us with fundraising tips and training advice. My friends were also an incredible support through it all, telling me I could do it and delaying things until I was fit enough – their positivity kept my spirits up in the darkest of times.
We cycled to Paris almost exactly a year after my diagnosis, and it was one of the most amazing adventures of my life. We kept our friends and family updated on our journey every night through a Facebook page, and in the end we raised almost £3000 for Target Ovarian Cancer. Standing in the rain at the port waiting to board the return ferry, looking at the people sitting in their warm, dry cars – I wouldn't have swapped places with them for the world.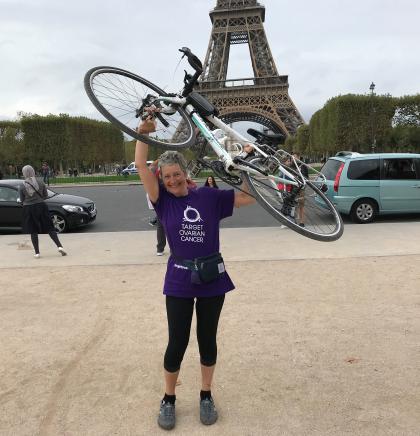 ---
If you've been affected by this story and would like to speak to a specialist nurse, you can call our dedicated support line on 020 7923 5475 or contact us: support@targetovariancancer.org.uk. We're open from 9am until 5.30pm, Monday to Friday.