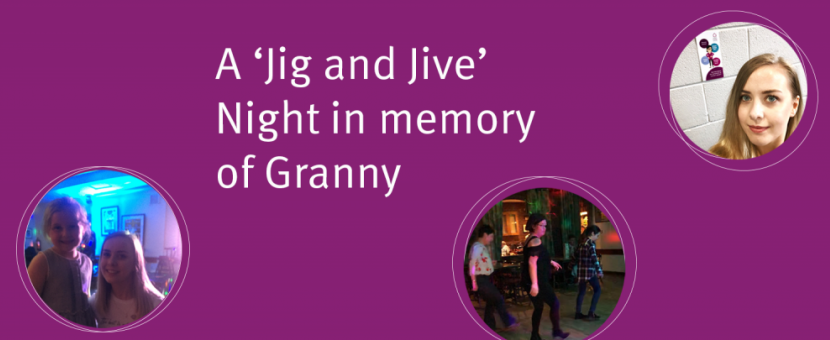 Granny
Last year I lost my Granny quite suddenly to ovarian cancer. During my Granny's illness, I learnt just how difficult it is to diagnose ovarian cancer in the early stages. Smear tests don't detect the disease and the symptoms are so similar to other conditions like IBS. Upon my Granny's passing, I knew I had to do something to help other women get diagnosed at an earlier stage, so that other families don't have to lose their loved ones like we did. I decided to start my fundraising journey for Target Ovarian Cancer.
I thought long and hard about how I wanted to fundraise for the charity. Finally, I came up with the idea of a 'Jig and Jive' night, as music and dancing (especially country music and jiving) was my Granny's all-time favourite hobby. So, the planning and organising began!
Community
Once I began sharing my ideas, my local community, my family, and my Granny's friends were absolutely brilliant in helping me create the perfect event. The local community space allowed me to use their hall for free; the live singer and DJ greatly discounted their fees; a number of local businesses and family members donated prizes for the raffle; the local supermarket donated snacks; and the business my Mum and Dad own sponsored the entertainment for the evening. Therefore, all of the money that was raised was able to go straight to Target Ovarian Cancer, which was absolutely amazing! Furthermore, family, friends and local businesses shared the event on their social media pages and put flyers up in their workplaces to ensure that everyone knew about the event.
Fundraising
The night itself was amazing and everyone had so much fun. The dancefloor was always occupied and there was lots of laughter and stories about good times. I know my Granny would have been in her element on the night. I believe that it was the perfect way to honour her memory and raise money in her name.
My initial fundraising goal was £500 but to my amazement, through ticket sales, raffle tickets, and donations, we managed to raise an amazing £900. I was absolutely blown away! Alice from Target Ovarian Cancer was absolutely amazing and so supportive with my fundraising, and continues to be as I plan more fundraising events for the year ahead.
Awareness
As well as helping with my fundraising, the community space has allowed me to permanently leave posters listing the symptoms of ovarian cancer in their ladies' toilets. This gave me the idea of not only raising money but also raising awareness, as I fully believe that knowledge is power. Since the 'Jig and Jive' Night I have also been leaving leaflets and posters about the symptoms of ovarian cancer in public toilets, in the hope that it will encourage at least one lady to see their GP if they're experiencing any of the symptoms.