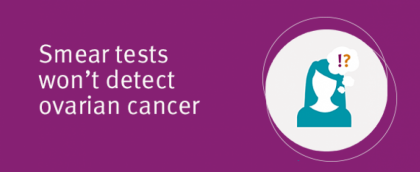 This lack of awareness means many women are at risk of assuming they are 'protected' from ovarian cancer when they get their smear test, and writing off symptoms of ovarian cancer when they experience them. This could put women at increased risk of a late diagnosis of ovarian cancer.
Smear tests (cervical screening programme) and the human papilloma virus (HPV) vaccine mean that cervical cancer is largely preventable in the UK. Public Health England will launch a Be Clear on Cancer campaign encouraging women to take up cervical screening on 5 March.
But neither screening nor a vaccine exists for ovarian cancer, which affects over 25,000 women in the UK. Confusion and lack of awareness of the disease means it is essential for women to know the symptoms to look out for, and Target Ovarian Cancer is calling for government investment in a national symptoms awareness campaign. The symptoms of ovarian cancer are:
Persistent bloating - not bloating that comes and goes
Feeling full quickly and/or loss of appetite
Pelvic or abdominal pain (that's your tummy and below)
Urinary symptoms (needing to wee more urgently or more often than usual)
I had always thought cervical screening detected ovarian cancer, and that I was covered when I had my smear tests. When I was diagnosed with ovarian cancer in 2017 after a two year delay, it was such a shock. Now I want all women to be vigilant of the symptoms of ovarian cancer – better awareness will save lives.
Target Ovarian Cancer's Chief Executive Annwen Jones said:
We need to combat the confusion around ovarian cancer and cervical screening, because while smear tests are a vital tool in public health, a similar option simply does not exist in ovarian cancer. While we welcome government investment in raising awareness of the cervical screening programme this March, the ovarian cancer community is painfully aware that 11 women die every day from ovarian cancer and we urgently need to see a national ovarian cancer symptoms awareness campaign. Women are still waiting.
March is Ovarian Cancer Awareness Month. Join us to raise awareness, raise money and save lives.