After finding a lump in her stomach, Sue made an appointment to see her GP. With an elevated CA125 result, she was referred for a scan and eventually diagnosed with stage 3 ovarian cancer.
Sue was treated with chemotherapy and surgery, followed by an immunotherapy trial. She was told that her cancer had an 80% chance of returning over the next 2-4 years. She feels very fortunate that now six and a half years later, she remains in remission and has three beautiful grandchildren. 
---
I felt so guilty at first. I didn't want to tell anyone that I had cancer because I felt like it was my fault. I thought:
Where do I turn?, what do I do?. That's when I googled and found Target Ovarian Cancer. I didn't know what to expect – I just wanted someone to talk to.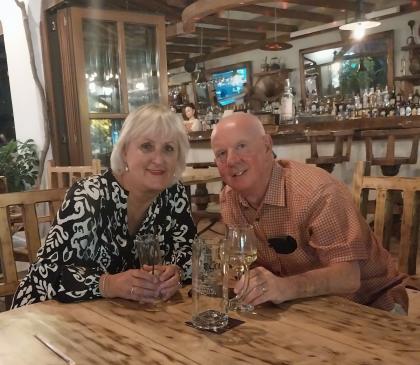 Alarm bells
Six months before I was diagnosed with ovarian cancer, I had taken early retirement and was looking forward to being a 'lady of leisure', with some lovely holidays booked.
I had some indigestion – it felt like my food wasn't going down fast enough – it wasn't comfortable to sleep on my front and I needed to pee more often than usual, but it was all quite subtle and didn't ring any alarm bells with me.
Then one morning I was lying in bed and I started to prod my tummy, as it had been uncomfortable when I was trying to sleep on my front. That's when I felt a big lump. I went to the GP and she sent me for an ultrasound and blood tests.
After the ultrasound, I went back to the GP and told her that I was scared I might have ovarian cancer, and she said "absolutely not". That was before my CA125 came back at over 6,000. For me, the CA125 was a huge indicator. The test saved my life.
Target Ovarian Cancer
I was referred to Guy's Hospital in London for further treatment.
I think I was in shock at first. I was panicking because I didn't really know much about ovarian cancer and when I tried speaking to another cancer charity I didn't get many answers.
At the time I didn't have a named clinical nurse specialist, so after discovering Target Ovarian Cancer online, I decided to try calling their support line. I didn't know what to expect, but the nurse I spoke to was brilliant!
She phoned me back within the hour and explained to me what would happen with the chemo and surgery. She was obviously a specialist nurse for people who had cancer. She was very, very kind and everything she told me was helpful.
Over the next few months I had three lots of chemotherapy, then an operation and three more rounds of chemo. I was also offered the chance to take part in an immunotherapy trial. As part of my maintenance therapy it was infused every two weeks for 13 months.  
I think the worst part of the chemo treatment was probably losing my hair. It came out in clumps on the 17th day after my first chemo and my husband ended up helping me to shave the rest of it off. We sat on the floor of the bedroom, sobbing our hearts out. My hair eventually grew back very curly and very grey. I'm now embracing the grey colour, grey is the new blonde!
You can
My message to other women would be, get out there and enjoy your life. Don't let anyone tell you that you can't do something – you can! I've met up with a group of other women via the Target Ovarian Cancer Facebook group, and we now meet every few months and have a WhatsApp group where we speak almost every day – it's a great support for me.
I want others to know that you can live with this. You just have to keep going. Don't get me wrong, you wouldn't be normal if you didn't feel down, but you can pull yourself up again. The doctors haven't made me better so I can just sit around and do nothing. I want to live as well as I can.
Remission 
Since being in remission I've been up the Eiffel Tower, climbed over the O2, taken part in the Guy's Celebration of Hope fashion show, and been on wonderful holidays - long may this continue.
Most important of all, I've now got three beautiful, gorgeous grandchildren. At the start of this I never thought I'd see grandchildren… but here I am with three.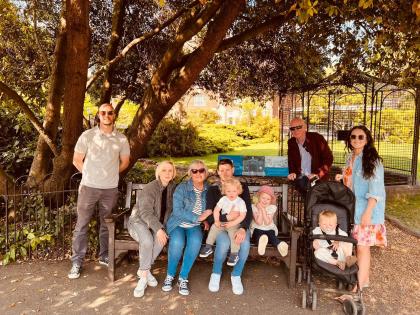 ---
If you've been affected by this story and would like to speak to a specialist nurse, you can call our dedicated support line on 020 7923 5475 or contact us: [email protected]. We're open from 9am until 5pm, Monday to Friday.
If reading this story has helped you, join the Ovarian Cancer Community to connect with more people affected by ovarian cancer: www.targetovariancancer.org.uk/onlinecommunity