From stoma pep talks to causing chaos on the chemotherapy ward, Helen describes what it's really like to live with ovarian cancer and why for her it's important to keep smiling…
---
On my first visit to chemotherapy I got myself sent to the 'naughty corner'.
I hadn't really known what to expect, and although chemo wasn't an unpleasant experience, it was very quiet and subdued – at least until I arrived! When the steroids made me feel like I might have wet myself, I stood up too quickly and accidentally dislodged my drainage bag. In the chaos, I ended up unplugging my machine and pulling the machine belonging to the man next to me. People were sitting there giggling. After that, I had to sit away from everyone else.
I probably didn't take it very seriously; I like to keep things light and enjoy myself!
The road to diagnosis
I first noticed something was wrong in November. I'd been lying on my back doing floor exercises at the gym when I pushed my pelvis up and felt something move. I'd never felt anything like that before. I went to see my GP and she did an abdominal exam and sent me for an ultrasound. Within a week I began to get ascites and I looked like I was nine months pregnant. I ended up having to have eight litres of fluid removed.
After the ultrasound, my feet didn't touch the floor – I had so many tests and appointments! I had a biopsy and a permanent drainage bag put in, and I spent New Year's Eve in a hospital bed. To celebrate, a nurse came round and offered us an extra drink. We thought she meant alcohol, but it turned out to be tea, coffee or hot chocolate…
Great support
Because my GP was skirting around the issue, it wasn't until January that I heard the word 'cancer' mentioned. My husband still can't get over how cold I was when they told me the news. I asked them if I could fight this or if it was the end. They told me that because it was stage IV they would have to move fast. I was given neo-adjuvant chemotherapy – six cycles interspaced with surgery.
In early January I met my oncologist and my trial nurse, Tina. Tina has been an absolute rock for me, she's amazing – and she's there for me and my family 24/7. I spoke to her a lot during the early days of my diagnosis and still do, and she has helped me through so much. I was put on the ICON 8B trial. This meant I got access to the cancer drug Avastin, but after I learned that not all women with ovarian cancer do, I got involved with Target Ovarian Cancer and wrote to my MP to try and save Avastin and keep it on the Cancer Drugs Fund. I feel as if I'm part of the charity – my face is even on some of the leaflets! Target Ovarian Cancer has given me great support. The work they do is fantastic.
A scan recently showed that the cancer is now on my stomach wall, but I'm having chemo monthly in the hopes of reducing it. One of the biggest consequences of treatment is that I now have a stoma bag. When I first got it I hated it and didn't want to change it. Eventually, a young nurse sent me off to the bathroom to change it. It was really hard, but in the end I got it done. I think I just needed a bit of tough love! Now the stoma doesn't bother me at all. I wear all the same clothes and it doesn't stop me doing anything.
Stronger than ever
Monday to Friday if I can, I work – it's better that way! I'm a member of support staff in a school, supporting children with additional needs and speech problems. Every morning I wake up, and it could be a good day or a bad day, so I can't really plan things, but if I feel great at a weekend, we go out for the whole day. Going through early menopause has been difficult, and I get menopausal migraines and sickness too. Waiting for scan results is also really hard for me because it's the waiting that gets you.
These days I try to support other people who have had a diagnosis of cancer. I'm quite an outgoing person, so I actually find it's easier to support others in a similar situation. For me, the biggest change is discovering that I'm stronger than I thought I was.
It's time to TAKE OVAR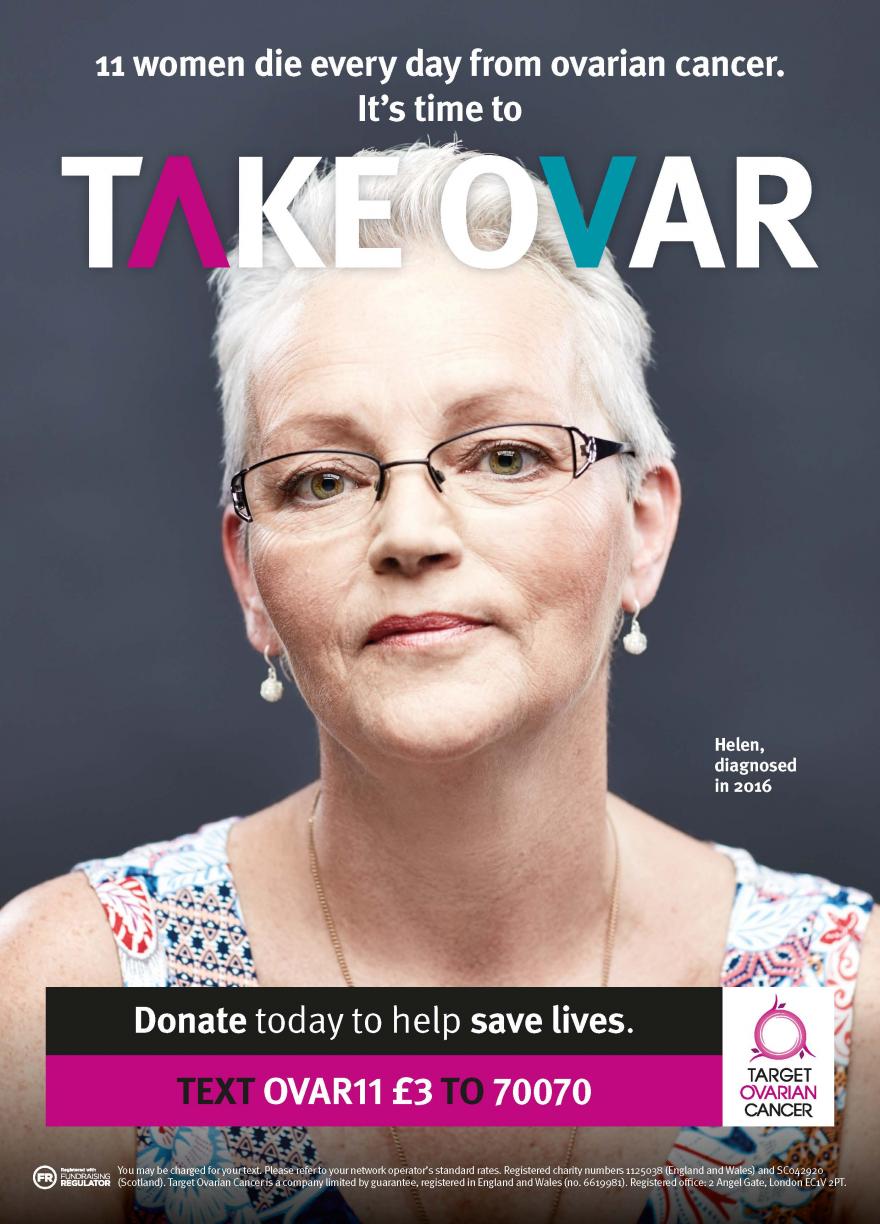 Helen is one of the the models in our campaign It's time to TAKE OVAR. She spoke to us backstage at the photoshoot this summer – watch her video.
Join the campaign and together we can make sure women in the UK have the best chances of survival.