At 25, Sarah had never heard of ovarian cancer or its symptoms. Here she talks about the shock of her diagnosis, the struggle of infertility, and why having cancer means she'll never say no to another opportunity…
---
I still don't see myself as a 'cancer patient'. The whole idea is difficult to get my head around. Just thinking about it is quite scary.
Too young
I first went to the GP with a bloated stomach, fatigue and irregular periods.
Originally this was put down to constipation, a recent change in my diet and the stress of starting a new job. Later, I was given a different contraceptive pill. Finally, I insisted that something was wrong and I was referred to hospital. Three weeks later I met with a consultant. Originally he thought I had a large ovarian cyst, but when he discovered my CA125 level was 2800, he immediately referred me to another hospital. After two rounds of surgery, I was diagnosed with stage III low-grade ovarian cancer. I was 25-years-old.
Hysterectomy
I don't think I'd ever heard of ovarian cancer, and certainly had no idea of the symptoms. 
I know this probably has a lot to do with my age; at 25, I don't meet the target group of those who are made aware of symptoms.
Being so young it was also difficult to cope with certain realities of the treatment – in particular, having to have a hysterectomy. Knowing that the option of being able to conceive my own child was being taken away from me was very difficult to deal with. After surgery, I did go through a phase of feeling very low and upset, but I am a mentally strong person and knew that these down days were to be expected. I also have the most amazing support system around me. I still allow 'bad days and I don't let myself feel guilty for them.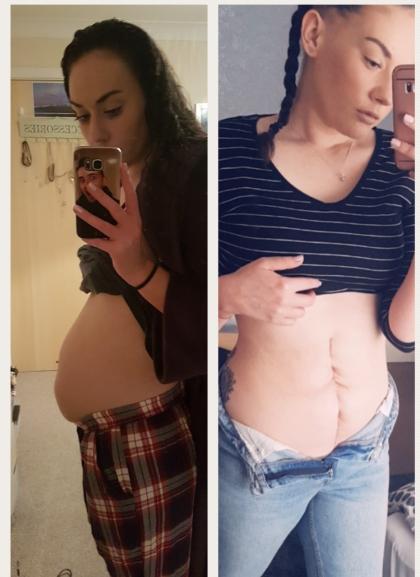 In terms of body image, it took five weeks before I looked at my own stomach because I couldn't face seeing the scar. I also put on a lot of weight during chemotherapy and steroids. Despite this, I have never loved, appreciated and felt as confident in my body as much as I do now.
Target Ovarian Cancer
I first heard of Target Ovarian Cancer when my nurse specialist sent out an invite in the post to attend the Being Together day in Newcastle, which I thought was a very inspiring and well-put-together day. I have shared my story since the beginning across my social media and local news, so sharing it with the charity seemed another ideal opportunity to spread awareness. I'll also be hosting an event in the summer to fundraise for Target Ovarian Cancer and Maggie's.
Why not me?
Raising awareness for ovarian cancer is such an important thing. I know that at my age a GP would not expect a patient to present with the disease, but had I known about the symptoms, I would have raised them with the GP. I have since spoken to numerous friends who also had no idea of the symptoms.
Having ovarian cancer is a difficult experience, physically and emotionally. Positivity is key, and we all have a life that needs to be lived. Focus on the future and going forward. At no point did I question "why me?" but rather "it has to happen to someone, so why not me?" It's been a real eye opener and I will never say no to an opportunity again.
---
If you've been affected by this story and would like to speak to a specialist nurse, you can call our dedicated support line on 020 7923 5475 or contact us: support@targetovariancancer.org.uk. We're open from 9am until 5.30pm, Monday to Friday.